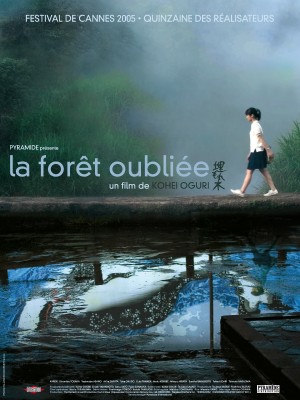 2005
Japan
93min - 35 mm - Color - 1.66 - Dolby SR - Drama
Original language : Japanese
Cast
Karen
Hiromitsu Tosaka
Tadanobu Asano
Akira Sakata
Credits
Director: Kohei Oguri
Producer : K.Oguri, C. Yamamoto, I.Sato, F. Sunaoka
Production Company : Himawari Theater Group Inc.
Screenplay : Kohei Oguri & Tsukasa Sasaki
Director of photography : Norio Teranuma
Sound : Masato Yano
Editing : Nobuo Ogawa
Set : Yoshinaga Yokoo & Koichi Takeuchi
Festivals & Awards
2005 :
Cannes Directors' Fortnight
New Horizon FF
Chicago FF
FCMM
Rome Asian FF
Cardiff FF
Denver FF
Gijon FF
Tursak History FF
Dejima Japanese FF (Netherlands)

The action takes place in a small town near the mountains. The heroine, Machi, is a high school student, who has yet to find her direction in life. One day, she and her friends start making up a story, which they decide to continue as a kind of relay. One after another, the girls continue the dreamlike tale, which unfolds like a "future history", invisible to the protagonists. Meanwhile, for the adults of the town things are different. Their "story" is forged from the realities of life and from their past. The two stories progress side by side, never seeming to cross. And yet, whithin each story, similarities begin to emerge. One day, a heavy rainstorm causes a landslide at the croquet pitch. The storm reveals a buried forest, preserved since the eruption of a volcano centuries ago. By and by, the separate realms of dreams, stories, past, present and future all start to amalgamate, creating a fantasy world...
French Synopsis :
Une petite ville d'une région montagneuse. Lycéenne, Machi n'a pas encore trouvé sa voie. Un jour, elle s'amuse à inventer des histoires fantastiques avec ses copines : chacune à sa manière poursuit ces récits imaginaires qui tissent entre elles un lien invisible ... Pour les adultes de la ville, les choses sont tout autres. Ils évoluent dans un monde parallèle : eux ont fait leur vie et sont plongés dans les réalités du quotidien. Adolescents et adultes semblent suivre deux trajectoires côte à côte qui ont peu de chances de se rencontrer. Et pourtant, des similitudes entre les deux parcours commencent à se faire jour. Un jour, une tempête provoque un terrible éboulement sur un terrain de criquet et découvre une forêt souterraine, que l'éruption d'un volcan a gardée intacte depuis des siècles. Peu à peu, réalité et imaginaire se rejoignent, passé et avenir se mêlent, esquissant bientôt un monde fantasmatique où tout devient possible...
Photos
>>Download the images