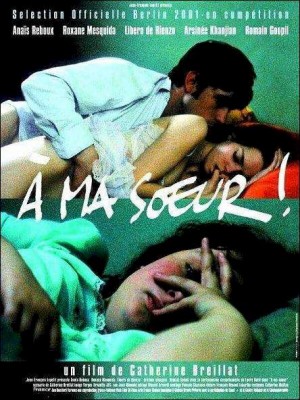 2000
France
93min - 35mm - 1.85 - Color - Psychological drama
Original language: French
Cast
Anaîs Reboux
Roxane Mesquida
Librero de Rienzo
Arsinée Khanjian
Credits
Director: Catherine Breillat
Screenplay : Catherine Breillat
Image: Giorgos Arvanitis
Editing: Pascale Chavance, Gwenola Heaulme, Frédéric Barbe
Music: Fabrice Nguyen Thai, Jean-Paul Jamot
Producer : Jean-François LEPETIT (FLACH FILM PRODUCTION)
Festivals & Awards
2001 :
Berlin - Official Selection - In Competition
Jerusalem Film Fest
Edinburgh Film Fest
Cork Film Fest
Bergen Film Fest
Chicago Film Fest Golden Hugo for Best picture
2002 :
Rotterdam Film Festival Audience Award
Goteborg Film Fest
Nat Film Fest
Singapore Film Fest
Warsaw Film Fest
2003 :
Bratislava Film Fest
FAT GIRL
A ma soeur!
a film by :Catherine Breillat
Anaïs is 12 and bears the weight of the world on her shoulders. Her body is both a citadel for her pain and a fortress. Hidden in the shadows or rejected, she is an observer. It's summer, with a family holiday by the sea and summer romance. It's Anaïs's first experience of love but she makes this discovery by proxy. She observes her older sister, Elena, whom she loves (and hates). Elena is fifteen and diabolically beautiful. She is neither more futile nor more stupid than her younger sister, but she doesn't realise that she is no more than an object of desire. And, as an object, all she can do is be taken. Or be had. Indeed, this is the subject, the loss of girls' virginity. And which opens the door to tragedy that summer.
French Synopsis :
Anaïs a 12 ans, elle porte le poids du monde. Son corps, c'est à la fois la citadelle de sa douleur et une forteresse. Tapie à l'abri, ou laissée pour compte, elle observe. C'est l'été, la mer, les vacances en famille. Les amours de vacances. C'est donc l'apprentissage du premier amour. Cet apprentissage, Anaïs va le faire par procuration. Elle observe sa soeur aînée, Elena, aimée (et haïe). Eléna a quinze ans et la beauté du diable. Ni plus futile, ni plus bête que sa cadette, mais qui ne peut pas comprendre qu'elle n'est qu'un objet du désir. Et qu'en tant qu'objet elle ne peut que se faire prendre. Ou avoir. D'ailleurs, il s'agit de cela, la perte de la virginité des filles. Et qui ouvre la porte au drame, cet été-là.
Trailer
Photos
>>Download the images