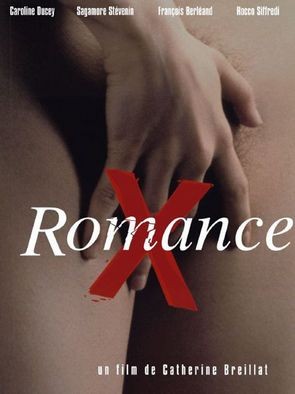 1999
France
95min - 35mm - 1.66 - Color - Drama comedy
Original language: French
Cast
Caroline Ducey
Sagamore Stévenin
François Berléand
Rocco Siffredi
Credits
Director: Catherine Breillat
Screenplay : Catherine Breillat
Image: Giorgios Arvanitis
Editing: Agnès Guillemot
Music: DJ Valentin
Producer: Jean-François Lepetit (FLACH FILM)
Festivals & Awards
1999:
Rotterdam - Official Selection
Thessaloniki Film Fest
Jerusalem Film Fest
Melbourne Film Fest
Toronto film fest
2000:
Tapei Golden Horse Fest
Romance
a film by :Catherine Breillat
Love sucks. It's a matter of power. When you love a guy enough to be faithful, he stops fucking you. When you're unfaithful, he fucks you, it's simple. It's not because he guesses you're unfaithful, it's because he understands you're moving away from him.
French Synopsis :
C'est con l'amour. C'est une question de pouvoir. Un mec qu'on aime vraiment assez pour être fidèle, il ne vous baise plus. Quand on les trompe, ils vous baisent, c'est simple. C'est pas qu'ils devinent qu'on les trompe, c'est qu'ils comprennent qu'on leur échappe.
Trailer
Photos
>>Download the images