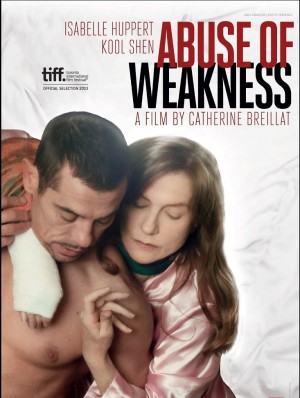 2013
France
104min - DCP - 1.85 - Color
Original language: French
Cast
Isabelle Huppert
Kool Shen
Credits
Director: Catherine Breillat
Script: Catherine Breillat
Image: Alain Marcoen, SBC
Editing: Pascale Chavance
Music: Didier Lockwood
Producer: Jean-François Lepetit (FLACH FILM PRODUCTION)
Co-producers: Nicolas Steil, Jesus Gonzalez
Production compagnies: FLACH FILM PRODUCTION, IRIS FILMS, IRIS PRODUCTION DEUTCHSLAND, CB FILMS, ARTE FRANCE CINEMA, UMEDIA in association with UFUND
Festivals & Awards
2013 - Toronto Film Festival - Official Selection

After a brain hemorrhage, Maud, a filmmaker, wakes up one morning in a half-dead body that has left her hemiplegic and facing inevitable solitude. Bedridden but determined to pursue her latest film project, she discovers Vilko, a con
man who swindles celebrities, on a TV talk show. He is arrogant, magnetic and mesmerizing. Maud wants him for her new film. They meet. He sticks around. He swindles her, too, borrowing astronomical sums of money.
He takes everything but gives her joy, a family. This film tells the story of the abuse of weakness to which Maud falls victim.
French Synopsis :
Victime d'une hémorragie cérébrale, Maud, cinéaste, se réveille un matin dans un corps à moitié mort qui la laisse hémiplégique, face à une solitude inéluctable. Alitée mais déterminée à poursuivre son projet de film, elle découvre Vilko, arnaqueur de célébrités, en regardant un talk-show télévisé. Son arrogance crève l'écran avec superbe : Maud le veut pour son prochain film. Ils se rencontrent. Il ne la quitte plus. Elle aussi, il l'escroque et lui emprunte des sommes astronomiques. Il lui prend tout mais lui donne une gaieté et une sorte de chaleur familiale. Ce film raconte l'abus de faiblesse dont Maud est victime.
Photos
>>Download the images