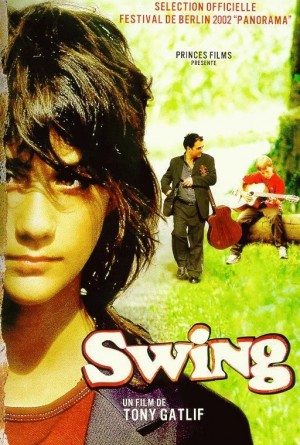 2001
France
90min - 35 mm - Scope - Color - Drama
Original language : French, Rom
Cast
Lou Rech
Oscar Copp
Tchavolo Ben Zimet
Credits
Director: Tony Gatlif
Producer : Tony Gatlif
Production Company : PRINCES FILMS
Screenplay : Tony Gatlif
Director of photography : Claude Garnier
Sound : Regis Leroux
Editing : Monique Dartonne
Set : Denis Mercier
Festivals & Awards
2002:
Berlin - Official Selection - Panorama
Sydney Film Fest
Galway Film fest
Melbourne Film Fest
Tapei Golden Horse Fest
Chicago Film Festival
Denver Film Festival
2003:
Bangkok Film Fest
Philadelphia fest
San Francisco fest
DC Film Fest
Kristiansand Norway
Maine Film Fest
Boston French Fest
Port Townsend
Santa Fe Film Fest
2010:
Bucarest Film Fest
SWING
a film by :Tony Gatlif
Max, an only child, is 10 years old. He loves Manouche jazz, a music he discovered the first time he heard the guitar virtuoso Miraldo play. This music becomes his passion and brings him to the town's Manouche neighbourhood, where he buys an old guitar. Max will learn about Manouche music and culture through the lessons Miraldo agrees to give him. He quickly makes friends with Swing, a young gypsy girl who is the same age as he is and whose charisma, self-confidence and freedom fascinate him.
French Synopsis :
Max, fils unique, est âgé d'une dizaine d'années. C'est un fan de Jazz manouche, qu'il a découvert en écoutant jouer Miraldo, un virtuose de la guitare. Cette musique devient sa passion et le conduit vers le quartier des manouches où il achète une vieille guitare. Grâce aux cours que Miraldo veut bien lui donner, Max va faire l'apprentissage de la musique et de la culture manouche. Très vite, il devient l'ami de Swing, jeune manouche de son âge qui le fascine par son magnétisme, son assurance et sa liberté.
Photos
>>Download the images