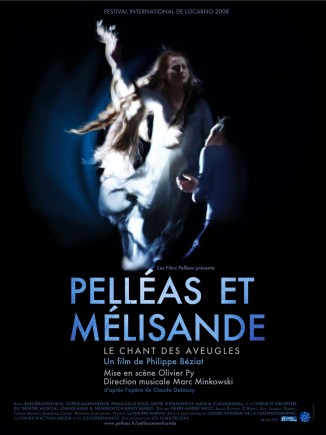 2009
France
108min - 1.77 - Color - Documentary / Music
New master HD available
Original language: French / Russian
Cast
Jean-Sébastien Bou (Pelléas)
Sophie Marin-Degor (Mélisande)
François Le Roux (Golaud)
Dmitri Stepanovitch (Arkel, roi d'Allemonde)
Natalia Vladimirskaia (Geneviève, Golaud and Pelléas' mother)
Credits
Director: Philippe Beziat
Musical director: Marc Minkowski
Lighting director: Olivier PY
Image: Raphael O'Byrne
Editing: Cyril Leuthy
Producer: Philippe Martin (LES FILMS PELLEAS)
Festivals & Awards
2008:
Locarno International Film Festival
Rio Opera Film Festival
Vancouver Film Festival
PELLEAS AND MELISANDE
Pelléas et Mélisande, le chant des aveugles
a film by :Philippe Beziat

The opera, Pelléas et Mélisande, first performed in Paris in 1902, had never been staged in Russia. In June 2007, director Olivier Py and conductor Marc Minkowski produced Claude Debussy's opera in Moscow for the first time, with a Franco-Russian cast. To spectators unfamiliar with Pelléas et Mélisande, Debussy, or even opera, we wanted to create a sensory, imaginary space that they could make their own, without partiality or preconceived notions. "We never see but the reverse side of fate, even of our own," the old King Arkel sings. On screen, the shimmering world of the theatre becomes an allegorical cave of the world, peopled with Claude Debussy, Maurice Maeterlinck, Olivier Py, Marc Minkowski, as well as young Russian singers, technicians, extras, an entire brotherhood of beings who are "mysterious like everyone.
French Synopsis :
De « Pelléas et Mélisande », Marc Minkowski dit qu'elle est « une œuvre magnétique qui procure une sorte d'élévation à quiconque l'approche », au point que cet opéra est devenu une des œuvres les plus emblématiques de la musique française. A l'occasion de la création en Russie de l'opéra de Claude Debussy, Philippe Béziat a saisi l'opportunité que représentait la première collaboration entre Marc Minkowski et Olivier Py pour réaliser un film unique. Ni film opéra, ni tout à fait documentaire, et bien loin d'être une captation télévisuelle, ce film musical approche au plus près du mystère de cette œuvre, et nous raconte comment chef d'orchestre, metteur en scène, chanteurs russes et français, techniciens ou figurants se trouvent confrontés à la fascination qu'exerce sur eux "Pelléas et Mélisande". La création de « Pelléas et Mélisande » en Russie est un projet réalisé à l'initiative de Culturesfrance. Avec la participation du Fonds d'Action SACEM.
Photos
>>Download the images