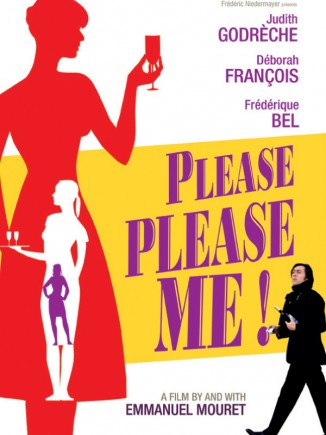 2009
France
90min - 35 mm - 1.85 - Color - Comedy
Original language : French
Cast
Emmanuel Mouret
Judith Godrèche
Déborah François
Frédérique Bel
Credits
Director: Emmanuel Mouret
Producer : Frédéric Niedermayer
Production Company : MOBY DICK FILMS
Co-production Company : LES FILMS PELLEAS
Screenplay : Emmanuel Mouret
Director of photography : Laurent Desmet
Music : David Hadjadj & Jérôme Rebotier.
Editing : Martial Salomon
Festivals & Awards
2009 :
Chungmoro IFF
French Film Fest in BAM
Denver IFF
Helsinki IFF
Französische Filmtage Tubingen
Irish French Fest in Dublin
France Odeon French Film Fest
UK Embassy of France in D.C.
2010 :
Cleveland IFF
Hong kong IFF
City of lights, City of Angels French Film Fest in los Angeles
Festival du film Francophone ATHÈNES
RiverRun IFF
Sacramento French Film Fest

Ariane is convinced that her partner, Jean-Jacques, is fantasizing about another woman. To save their relationship, she asks him to have an affair with that woman, as she thinks that this is the best way to cure him. When Jean-Jacques goes to visit this woman he barely knows, he isn't aware that she's the daughter of the President of France...
French Synopsis :
Ariane est persuadée que son compagnon Jean-Jacques fantasme sur une autre femme. Pour sauver son couple, elle lui demande d'avoir une aventure avec celle-ci, pensant qu'il s'agit du meilleur remède pour le libérer. Lorsque Jean-Jacques se rend chez cette femme qu'il connaît à peine, il ne sait pas encore qu'il s'agit de la fille du Président de la République...
Trailer
Photos
>>Download the images