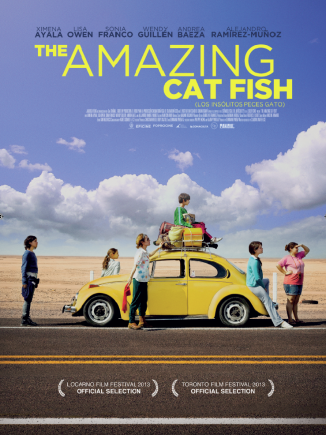 2013
Mexico - France
89min - DCP - 1.85 - Color
Original language: Spanish
DOWNLOADS

Download the presskit
Cast
Ximena Ayala
Lisa Owen
Sonia Franco
Credits
Director: Claudia Sainte-Luce
Script: Claudia Sainte-Luce
Image: Agnès Godard, AFC
Editing: Santiago Ricci
Music: Madame Recamier
Producers: Geminiano Pineda (Cine CANÍBAL), Christian Kregel (Jaqueca Films)
Co-producers: Alain Peyrollaz (Good Lap Production)
Festivals & Awards
AWARDS
Gijon FF
Special Prize of the Jury
Mar del Plata FF
Best Latin American Feature Film
Cuenca FF
Best film and Best actress (Lisa Owen)
Baja FF
Best Mexican Film
Biarritz FF
Best Performance Award for all actresses
Locarno Film Festival 2013 - Official Selection
Winner of the Young Jury Prize for Best Film
Toronto Film Festival 2013 - Discovery
Winner of the International Critics' Prize (FIPRESCI PRIZE)
Remarks from the jury:"Claudia Sainte-Luce shows a precocious, playful and poignant grasp of the fluid nature of family and the capability of the human heart under the most dire conditions for generosity, empathy and tenderness, in her vibrant debut The Amazing Catfish."
FESTIVALS 2013
Locarno Film Festival 2013 - Official Selection
International FF Fine Arts in Dominican Republic
Mumbai IFF
Tallin Black Nights FF
Chennai IFF
Biarritz FF
Gijon FF
Mar del Plata FF
Cuenca FF
Baja FF
Goa IFF
Chennai IFF
Festival de Cine de Cartagena
Bengaluru IFF
FESTIVALS 2014
Goteborg IFF
Rotterdam IFF
Belgrade International Film Festival
FebioFest, Czech republic
Curacao International Film Festival Rotterdam
Istanbul Intl Film Festival
Kosmorama Trondheim International Film Festival

Claudia, a lonely young woman, works in a supermarket. One night, she ends up in the hospital with a severe case of appendicitis. There, she meets Martha, the woman resting in the bed next to hers. Martha, who lives alone with her four children, gains Claudia's trust. When she gets out of the hospital, she spontaneously offers Claudia to go home with them. Getting to know this family makes Claudia feel at ease. And for the first time she experiences a sense of belonging in this peculiar little tribe. As Martha's health weakens every day the bond Claudia has with each member of the family grows stronger.
French Synopsis :
Claudia a 22 ans et vit seule dans une grande ville du Mexique. Une nuit, elle atterrit aux urgences de l'hôpital pour une crise d'appendicite. Elle y rencontre Martha, qui occupe le lit voisin. Martha a 46 ans, 4 enfants, et une inépuisable joie de vivre malgré sa maladie. Touchée par cette jeune femme solitaire, Martha invite Claudia à habiter chez elle à sa sortie de l'hôpital. Claudia est d'abord désorientée par l'organisation parfois chaotique de la maisonnée, mais trouve progressivement sa place dans la tribu. Et tandis que la santé de Martha s'affaiblit, le lien de Claudia avec chaque membre de la famille se renforce jour après jour.
Trailer
Photos
>>Download the images