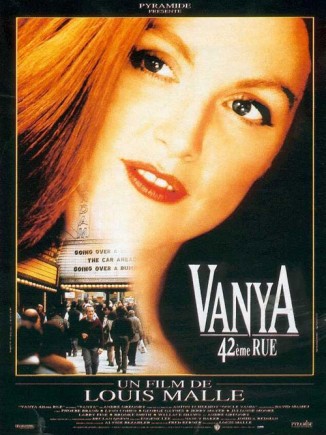 1994
USA
115min - 35 mm - 1.66 - Color - Drama
Original language : English
Cast
Phoebe Brand
Lynn Cohen
George Gaynes
Julianne Moore
Credits
Director: Louis Malle
Producer : Fred Berner
Screenplay : David Mamet
Director of photography : Declan Quinn
Sound : David Platt
Music : Joshua Redman Quartet
Editing : Nancy Baker
Costumes : Sue Gandy
Set : Randy Savoy
Vanya on 42nd Street
VANYA 42ème RUE
a film by :Louis Malle
Gathered together on a country estate is a group of relations and old acquaintances. Uncle Vanya, his niece Sonya, and the local doctor, Astrov, find their lives disturbed and threatened by the arrival of a beautiful young woman
and her older husband…"Vanya" is a unique filmed production of Anton Chekhov's "Uncle Vanya", as adapted by David Mamet. A film by Louis Malle of Andre Gregory's acclaimed stage production which came to life in 1990, it provides an unprecedented forum for a unique collaboration of two master directors, each in their own medium : Louis Malle and Andre Gregory in film and stage respectively. Framed as a rehearsal under the direction of Andre Gregory, we enter the slightly altered world of Chekhov's "Uncle Vanya".
French Synopsis :
L'histoire de la production et des repetitions "d'Oncle Vania" de Tchekhov mis en scene par Andre Gregory dans un theatre desaffecte, le New-Amsterdam.
Photos
>>Download the images