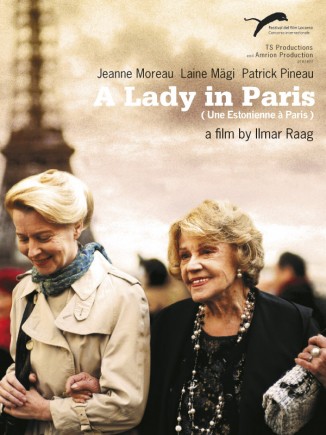 2012
France - Estonia - Belgium
84min - 35mm / DCP - 1.85 - Color - Drama
Original language: French / Estonian
DOWNLOADS

a-lady-in-paris-flyer.pdf
Cast
Jeanne Moreau
Laine Magî
Patrick Pineau
Credits
Director: Ilmar Raag
Producer : Milena Poylo & Gilles Sacuto
Production Company : TS PRODUCTIONS
Co-production Company : Amrion Oü (Riina Sildos), La Parti Production (Philippe Kauffmann)
Screenplay : Ilmar Raag, Agnès Feuvre, Lise Macheboeuf
Director of photography : Laurent Brunet
Sound : Pierre Mertens, Valène Leroy, Emmanuel de Boissieu
Music : Dez Mona
Editing : Anne-Laure Guégan
Costumes : Ann Dunsford
Set : Pascale Consigny
Festivals & Awards
Locarno 2012 - Official Competition - Ecumenical Award
2012:
Cinémania
Minsk IFF Listapad
2013:
Trieste IFF
RDV with french Cinema in New York
Festival de Mons
European Film Festival Puerto Rico
FebioFest
Festival Internacional de Cine en Guadalajara
Beijing Film Panorama
Cinematheque Francaise Film Festival, Honolulu Museum of Art
Seattle IFF
Berkshire IFF
Scarborough FF
Summer Film School FF
Haifa IFF
Vancouver IFF
AFI EU Showcase
A Lady In Paris
UNE ESTONIENNE A PARIS
a film by :Ilmar Raag

Anne leaves Estonia to come to Paris as a caretaker for Frida, an elderly Estonian lady who emigrated to France long ago. Anne soon realizes that she is not wanted. All Frida wants from life is the attention of Stéphane, her younger former lover. Stéphane, however, is desperate for Anne to stay and look after Frida, even against the old lady's will. In this conflict of strangers, Anne will find her own way...
French Synopsis :
Anne quitte l'Estonie pour venir à Paris s'occuper de Frida, vieille dame estonienne installée en France depuis de nombreuses années. Mais à son arrivée, Anne se rend compte qu'elle n'est pas désirée. Frida n'attend rien d'autre de la vie que l'attention que Stéphane, son jeune amant d'autrefois, veut bien lui porter. Quant à Stéphane, il ne souhaite qu'une chose, voir Anne rester pour s'occuper de la vieille dame même contre son gré. D'un conflit qui n'est pas le sien, Anne va faire son propre chemin...
Trailer
Photos
>>Download the images