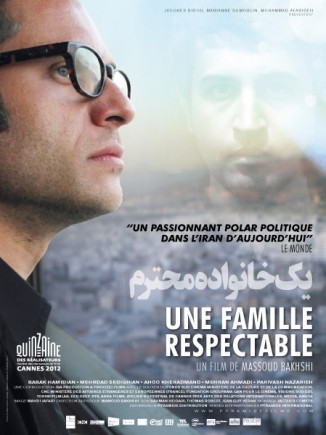 2012
Iran - France

90min - 35mm / DCP - Color - 1.85 - Dolby SRD - Drama
Original language : Farsi
Cast
Babak Hamidian (Arash)
Mehrdad Sedighian (Hamed)
Ahoo Kheradmand (The Mother)
Mehran Ahmadi (Jafar)
Parivash Nazarieh (Zohreh)
Credits
Director: Massoud Bakhshi
Producer : Mohammad Afarideh Jacques Bidou & Marianne Dumoulin
Production Company : FIROOZEI FILMS & JBA Productions
Co-production Company : with the support of Fonds Sud Cinéma Ministère de la Culture et de la Communication - CNC Ministère des Affaires Étrangères et Européennes (France) - Fondation Groupama Gan pour le Cinéma - Visions Sud Est - TorinoFilmLab - EED / EZEF - RTS - Akka
Screenplay : Massoud Bakhshi
Director of photography : Mahdi Jafari
Sound : Bahman Heidari, Thomas Robert & Jean-Guy Véran
Editing : Jacques Comets
Set : Mahmoud Bakhshi
Festivals & Awards
2012 : Cannes Film Festival Directors' Fortnight
Karlovy Vary IFF
Melbourne IFF
World Cinema Amsterdam
Warsaw IFF
Mumbai IFF
Sao Paulo IFF
Brisbane IFF
2012:
Black Nights FF
Torino FF
2013:
Iranian Films Days Germany
Festival Internacional de Cine en Guadalajara
Special screening in Hamburg
Istanbul IFF
Washington, DC IFF
Seattle IFF
Funf Seen FF
Scarborough FF
Malatya IFF

Arash is an Iranian academic who lives in the West. He returns to Iran to teach in Shiraz, a city far from Tehran where his mother lives. Drawn into a series of domestic and financial dramas, he faces a country that is now alien to him. Following the death of his father and the discovery of what his "respectable family" has become, he is forced to make choices.
French Synopsis :
Arash est un universitaire iranien qui vit en Occident. Il retourne donner des cours à Chiraz où vit sa mère, loin de Téhéran. Entraîné dans un tourbillon d'intrigues familiales et financières, il replonge dans un pays dont il ne possède plus les codes. A la mort de son père, découvrant ce qu'est devenue sa «famille respectable», il est contraint de faire des choix.
Trailer
Photos
>>Download the images