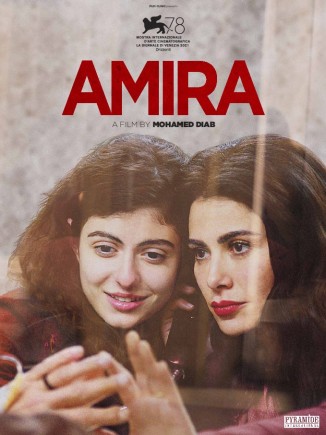 2021
Egypt - Jordan - UAE - Saudi Arabia
98min - DCP - Scope - Color
Orignal language: Arabic, Hebrew
DOWNLOADS

Download the presskit
Cast
Saba Mubarak
Tara Abboud
Ali Suleiman
Ziad Bakri
Credits
Director: Mohamed Diab
Script: Mohamed Diab, Khaled Diab, Sherin Diab
Image: Ahmed Gabr
Editing: Ahmed Hafez
Music: Khaled Dagher
Producers: Mohamed Hefzy, Moez Masoud, Mona Abdel Wahab, Hany Abu Assad, Amira Diab, Sarah Goher
Co-producers: Rula Nasser, Youssef AlTaher
Executive producer: Hisham El Araby
Associate producer: Daniel Ziskind
Production companies: FILM CLINIC, AGORA AUDIOVISUALS, ACAMEDIA PICTURES
Co-production companies: AL TAHER MEDIA PRODUCTION, THE IMAGINARIUM FILMS
Supported by Red Sea Film Festival
Festivals & Awards
AWARDS
INTERFILM Award for Promoting Interreligious Dialogue, Lanterna Magica Award, CICT - UNESCO "Enrico Fulchignoni" Award - VENICE FILM FESTIVAL - ORIZZONTI COMPETITION 2021
"Amore e Psiche" Best Film Award, Best Film at Amnesty International Italy, Special Jury Mention by University Jury, Audience Award - MEDFILM FESTIVAL 2021
FESTIVALS 2021
VENICE FILM FESTIVAL - ORIZZONTI COMPETITION
Grandi Festival. Da Venezia a Roma
Le vie del cinema. I film di Venezia a Milano,
Chicago IFF - International Competition
Venice in Naples. The extended cinema
Philadelphia IFF
Thessaloniki IFF
Medfilm Festival - Official Competition
Tallinn Black Nights FF
Arab Film Festival Philadelphia
Zagreb Film Festival
Singapore IFF - Asian Competition
Afrykamera
Red Sea IFF

Amira, a 17 year old Palestinian, was conceived with the smuggled sperm of her imprisoned father, Nawar. Although their relationship since birth has been restricted to prison visits, he remains her hero. His absence in her life is overcompensated with love and affection from those surrounding her. But when a failed attempt to conceive another child reveals Nawar's infertility, Amira's world turns upside down.
French Synopsis :
Amira, 17 ans, n'a jamais vu Nawar, son père, ailleurs qu'au parloir de la prison israélienne où il est détenu. Elle a été conçue grâce au sperme que son père a réussi à faire passer clandestinement hors de la prison.
Depuis toujours, Amira est vue comme la fille d'un héros de la Palestine dont elle a fièrement épousé la cause. Le jour où l'on découvre que Nawar est stérile et ne peut pas être son père, Amira se retrouve face à une question essentielle : qui est-elle ?
Trailer
Photos
>>Download the images