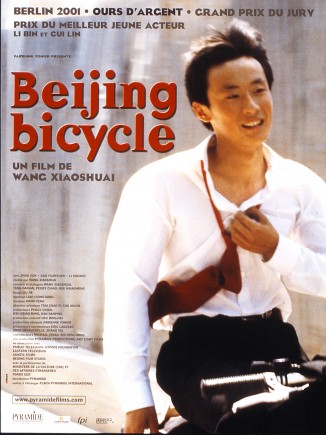 2000
Taiwan - France
113min - 35mm - 1.85 - Color
Original language: Chinese
Cast
Cui Lin – Li Bin
Zhou Xun
Gao Yuanyuan
Li Shuang
Credits
Director: WANG XIAOSHUAI
Script: WANG XIAOSHUAI, TANG DANIAN, PEGGY CHIAO, HSU HSIAO-MING
Image: LIU JIE
Editing: LIAO CHING-SONG
Music: WANG FENG
Producer: PEGGY CHIAO, HSU HSIAO-MING, HAN SANPING
Executive producer: HSU BING-HSI
Associate producer: FABIENNE VONIER
Coproducers: MICHAEL CHIAO, SHI DONG-MING
Production companies: PYRAMIDE PRODUCTIONS, ARC LIGHT FILMS in association with PUBLIC TELEVISION SERVICE FOUNDATION,
EASTERN TELEVISION, ASIATIC FILMS, BEIJING FILM STUDIO
With the participation of MINISTERE DE LA CULTURE (CNC) ET DES AFFAIRES ETRANGERES FONDS SUD
Festivals & Awards
BERLIN 2001 – OFFICIAL SELECTION – IN COMPETITION
SILVER BEAR – GRAND JURY PRIZE
BEST YOUNG ACTOR PRIZE (CUI LIN & LEE BIN)
BEIJING BICYCLE
a film by :Wang XiaoShuai
Beijing today. Guei has just arrived from his village. He is 16. He finds a job at a delivery service that cleans him up, clothes him, and lends him a bicycle: a magnificent silver mountain bike. The company pays well, but Guei must pay part of the money back to buy the bicycle on which he spends most of his time. One day when Guei has almost finished paying for it, the bicycle disappears, stolen from in front of a building where he is delivering a package. Without his bicycle, Guei no longer has a job. So he runs all over Beijing in search of his bicycle. But when, miraculously, Guei finds it, Jian is riding it. All he needs to do is steal his own bicycle back, but Jian doesn't see things the same way. He bought this bicycle at
the flea market. They will just have to learn to share...
French Synopsis :
Pékin (Beijing) de nos jours. Guei vient de la campagne. Il à 16 ans. Il trouve un travail dans une entreprise de coursiers, qui le lave, l'habille et lui prête un vélo : un magnifique VTT couleur argent. Lorsqu'il aura gagné 600 yuans ce vélo sera le sien. Alors que Guei a presque fini de payer, le vélo disparaît, volé au pied d'un immeuble où il livrait un colis. Sans son vélo, Guei n'a plus de travail. Désespéré, il court tout Pékin pour le retrouver. Quand par miracle, son meilleur ami reconnaît le vélo monté par Jian, un étudiant qui l'a acheté au marché aux puces. Ce vélo leur appartient à tous les deux... Il va falloir apprendre à le partager...
Photos
>>Download the images