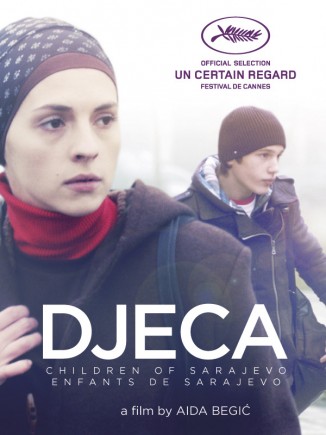 2012
Bosnia - France - Germany - Turkey
90min - 35mm / DCP - 1.85 - Color - Drama
Original language: Bosnian
DOWNLOADS

Download the flyer
Cast
Marija Pikic
Ismir Gagula
Bojan Navojec
Credits
Director: Aida Begic
Producer : Aida Begic
Production Company : FILM HOUSE SARAJEVO
Co-producer : Benny Drechsel (ROHFILM) / François d'Artemare (LES FILMS DE L'APRES-MIDI) / Semih kaplanoglu (KAPLAN FILM)
Screenplay : Aida Begic
Director of photography : Erol Zubcevic
Sound : Igor Camo
Editing : Miralem Zubcevic
Costumes : Sanja Dzeba
Set : Sanda Popovac
Festivals & Awards
2012 :
Cannes Film Festival Official Selection - UN CERTAIN REGARD SPECIAL DISTINCTION OF THE JURY
Pesaro IFF : Best film Young Jury Prize
Manesty International Prize
Melbourne IFF
Salé Women IFF
St-Petersburg IFF
Mumbai IFF
Canberra IFF
Warsaw IFF
Sao Paulo IFF
Ljubljana IFF
Gijon IFF
2013:
Film Comment Show Case NY
Palm Springs Film Festival
Göteborg IFF
Fajr FF
IF Spirit
International Debut FF
Vilnius IFF
FebioFest
Movies that Matter Festival FF
Festival Int.Du Cinéma Méditerranéen de Tétouan
International Female Film Festival Malmö
The Film Society of Minneapolis St. Paul
Bosnian-Herzegovinian Film Festival in NY
Barcelona International Auteur Film Festival
Seattle Int FF
Kilkenny IFF

Rahima (23) and Nedim (14) are orphans of the Bosnian war. They live in Sarajevo, a transitional society that has lost its moral compass, including in the way it treats children of the people who were killed fighting for the freedom of their city. After crime-prone adolescent years, Rahima has found comfort in Islam and she hopes her brother will follow in her footsteps. Everything becomes more difficult the day Nedim gets into a fistfight at school with the son of a local strongman. This incident triggers a chain of events leading Rahima to discover that her young brother leads a double life…
French Synopsis :
Rahima, 23 ans, et son frère Nedim, 14 ans, sont des orphelins de la guerre de Bosnie. Ils vivent à Sarajevo, dans cette société transitoire qui a perdu toute compassion pour les enfants de ceux qui sont morts pendant le siège de la ville. Après une adolescence délinquante, Rahima a trouvé un réconfort dans l'Islam, elle espère que Nedim suivra ses pas. Tout se complique le jour où à l'école, celui-ci se bat avec le fils d'un puissant ministre du pays. Cet incident déclenche une série d'événements qui conduiront Rahima à découvrir la double vie de son jeune frère...
Trailer
Photos
>>Download the images