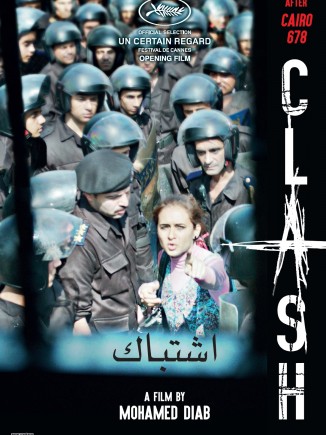 2016
France - Egypte
97min - DCP - 1.85- Color
Original language: Arabic
DOWNLOADS

Download the Flyer
Cast
Nelly Karim
Ahmed Malek
Tarek Abdel Aziz
Credits
Director: Mohamed Diab
Script: Mohamed Diab
Image: Ahmed Gabr
Editing: Ahmed Hafez
Producers: Moez Masoud, Mohamed Hefzy, Eric Lagesse
Co-producers: Olivier Père, Rémi Burah, Nicole Gerhards
Executive producers: Jamal Al Dabbous, Daniel Ziskind
Creative producer: Sarah Goher
Production companies: Film Clinic (Egypt), Sampek Productions (France), EMC Pictures (UAE), ARTE France Cinéma, Niko Film (Germany)
Festivals & Awards
AWARDS
Grand Prix Award and the Audience Choice Award for Best Feature Film
5th Annual Scarborough Worldwide Film Festival - 2017
Best Film
Cinéma Vues d'Afrique Montréal 2017
Cinepolitica Trophy for Best Film
Cinepolitica Romania 2017
Bronze Tanit - Second prize in the Official Feature Film Competition /Best Photography /Best Editing /University Award for Cinematic Criticism for Best Feature Film
Festival de Carthage 2016
Golden Pram Award for Best Feature Film
Zagreb Film Festival 2016
Best New Director
Seminci Valladolid Intl Film Festival 2016
Best Film and Audience Award
International Film Festival of Kerala 2016
FESTIVALS 2017
Bengaluru IFF India
Arab Film Days - Norway
Hong Kong Intl Film festival
Vues d'Afrique à Montréal – Official Competition
Cinepolitica Festival Bucharest – Official Competition
Jeonju International Film Festival, South Korea
Arab Film Festival in Korea
Annual Scarborough Worldwide Film Festival, Canada – Official Competition
FESTIVALS 2016
Cannes – Opening film Un Certain Regard
Art Film Slovakia
Moscow Intl FF
Munich Intl FF
Melbourne Intl FF
Zurich Intl FF
Eurasia Intl Film festival
London BFI
Warsaw Intl Film Festival
Gent Intl film Festival
Les films de Cannes à Bucarest
IFF Tofifest Poland
Mumbai International Film Festival?
Tokyo International Film Festival?
Joburg Film Festival
Thessaloniki Intl Film Festival
Kolkata Intl FF
Costa Rica International Film Festival
Kerala Intl Film Festival
Chennai International Film Festival (CIFF)

Cairo, summer of 2013 - Two years after the Egyptian revolution. In the wake of the ouster of Islamist president Morsi, a police truck full of detained demonstrators of divergent political and religious backgrounds roams through violent protests. Can the detainees overcome their differences to stand a chance of survival?
French Synopsis :
Le Caire, été 2013, deux ans après la révolution égyptienne. Au lendemain de la destitution du président islamiste Morsi, un jour de violentes émeutes, des dizaines de manifestants aux convictions politiques et religieuses divergentes sont embarqués dans un fourgon de police. Sauront-ils surmonter leurs différences pour s'en sortir ?
Trailer
Photos
>>Download the images