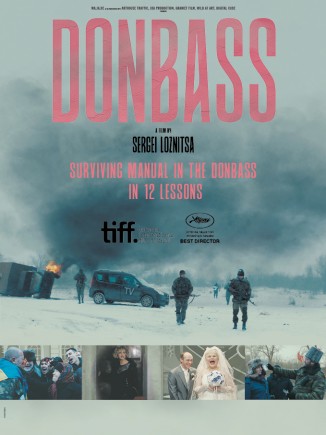 2018
Germany - Ukraine - France - Netherlands - Romania
121min - DCP - Scope - Color
Original language: Ukrainian, Russian
DOWNLOADS

Download the presskit
Cast
Boris Kamorzin
Valeriu Andriuta
Tamara Yatsenko
Liudmila Smorodina
Olesya Zhurakovskaya
Boris Kamorzin
Sergei Russkin
Petro Panchuk
Irina Plesnyaeva
Zhanna Lubgane
Vadim Dobuvsky
Alexander Zamurayev
Gerogy Deliev
Valeriu Andriuta
Credits
Director: Sergei Loznitsa
Script: Sergei Loznitsa
Image : Oleg Mutu
Montage: Danielius Kokanauskis
Production: Ma.ja.de. Fiction (Germany), Arthouse Traffic (Ukraina), JBA Production (France), Graniet Film (Netherlands), Wild at Art (Netherlands), Digital Cube (Romania)
Associate producer: Atoms & Void (Netherlands)
Festivals & Awards
Awards:
PRIZE FOR BEST DIRECTOR
Cannes Film Festival - Un Certain Regard - Opening Film
AWARD FOR CREATIVE EXCELLENCE IN CINEMA
Reykjavik Film Festival
FESTIVALS 2018
Art Film Fest Košice in Slovakia
Filmfest München
Karlovy Vary Film Festival
Odessa Film Festival
Garage museum of contemporary art in Moscow – Special Screening
Jerusalem Film festival – Masters Section
Summer Film School in Czech Republic
Melbourne Film Festival
Toronto International Film Festival
BIAFF (Batumi International Art-house Film Festival) - Competition
Helsinki Film Festival
CPH PIX
New World Views
Bergen International Film Festival
Split Film Festival
Busan International Film Festival - World Cinema
Cape Town Film Festival
62nd BFI London Film Festival
Warsaw Film Festival
Bosphorus Film Festival in Istanbul
29th Ljubljana International Film Festival
Stockholm International Film Festival - Competition
Sevilla European Film Festival - Competition
Taipei Golden Horse Film Festival
Black Nights Film Festival
Ukrainian Cinema Week in Prague
Goa International Film Festival - Competition
40th Cairo International Film Festival - Competition
Ukrainian Film Festival, Stockholm
Porto/Post/Doc - Film & Media Festival
Tbilisi international Film Festival
LUX Film Days
International Film Festival of Kerala
FESTIVALS 2019
Palm Springs Intl Film Festival
Pune Intl Film Festival
Museum of the Moving Image NY
Trieste Film Festival
Bengaluru International Film Festival
Sofia International film festival
Portland IFF
Hong Kong Intl Film Festival
Kosmorama Trondheim
Al Este Film Festival - Peru
Altan Khalis International Film Festival - Mongolia


In the Donbass, a region of Eastern Ukraine, a hybrid war takes place, involving an open armed conflict alongside killings and robberies on a mass scale perpetrated by separatist gangs.
In the Donbass, war is called peace, propaganda is uttered as truth and hatred is declared to be love.
A journey through the Donbass unfolds as a chain of curious adventures, where the grotesque and drama are as intertwined as life and death.
This is not a tale of one region, one country or one political system. It is about a world, lost in post-truth and fake identities. It is about each and every one of us.
French Synopsis :
Dans le Donbass, région de l'est de l'Ukraine, une guerre hybride mêle conflit armé ouvert, crimes et saccages perpétrés par des gangs séparatistes.
Dans le Donbass, la guerre s'appelle la paix, la propagande est érigée en vérité et la haine prétend être l'amour.
Un périple à travers le Donbass, c'est un enchainement d'aventures folles, dans lesquelles le grotesque et le tragique se mêlent comme la vie et la mort.
Ce n'est pas un conte sur une région, un pays ou un système politique mais sur un monde perdu dans l'après-vérité et les fausses identités. Cela concerne chacun d'entre nous.
Trailer
Photos
>>Download the images