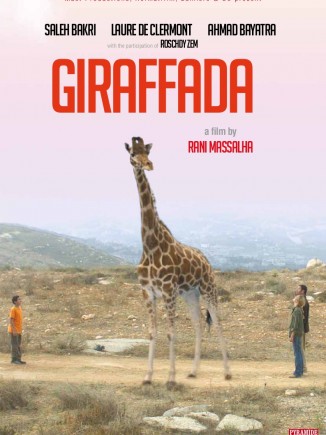 2013
France - Germany - Italia - Palestine
85min - DCP - 1.85 - Color - Drama
Original language: Hebrew, Arabic
DOWNLOADS

Download the Flyer
Cast
Saleh Bakri
Laure de Clermont
Ahmed Bayatra
Roschdy Zem
Credits
Director: Rani Massalha
Script: Xavier Nemo
Image: Manuel Teran
Editing: Carlotta Christiani
Producers: Antoine De Clermont-Tonnerre (Mact Productions), Bettina Brokemper (Heimatfilm Gmbh + Co.KG), Lionello Cerri (Lumiere & Co)
Festivals & Awards
AWARDS:
Jury Prize – Beirut International Film Festival 2014
FESTIVALS 2013
Toronto Film Festival - Discovery - World Premiere
Abu Dhabi IFF
Mumbai IFF
Panorama of European Films, Egypt
Bengaluru Intl Film Festival
FESTIVALS 2014
Göteborg International Film Festival
Ecrans d'Hiver, Lithuania
30th Mons International Love Film Festival, Belgium
Institut Français in Palestinian territories
Sofia International Film Festival
BUFF Filmfestival, Sweden
Toronto Kids International Film Festival
MOOOV FILM FESTIVAL, Belgium
Kosmorama Trondheim International Film Festival
ZLÍN FILM FESTIVAL, Czech Republic
Festival du film franco-arabe en Jordanie
Buster Film Festival, Denmark
Kristiansand International Children's Film Festival, Norway
Berwick Film & Media Arts Festival, UK
Take One Action Film Festival, UK
The Toronto Palestine Film Festival
Beirut International Film Festival
28th International Festival of Films for Children and Young Adults in Iran
2ème édition Ulaanbaatar IFF, Mongolia
18th Annual Arab Film Festival in San Francisco
Mostra Sao Paulo
Boston Palestine Film Festival
Arabian Night Washington
CASTELLINARIA Festival Internazionale del Cinema giovane, Switzerland
Anti Racist Filmdays in Sweden
Mostra Cinema: Oriente Médio / Middle Eastern Film Festival in Brazil
London Palestine FF
International Young Audience Film Festival Ale Kino! Poland
Madrid Palestine film fest
Palestinian film festival in Australia
Wexner Center for the Arts, USA
Bruxelles Med Film Festival
FESTIVALS 2015
Palestinian Film Festival in Dubai
European Youth Film Festival of Flanders
Festival Luxembourg
Milwaukee Muslim Women's Coalition, USA
Liverpool Arab Arts Festival (LAAF)
Calgary Arab Arts Film Festival, Canada
Salaam Filmfestival, Denmark
Festival Santiago de Compostela, Spain
DC Palestinian Film & Arts Fest 2015, USA

Yacine is the veterinarian of the only zoo remaining in the Palestinian West Bank. He lives alone with his 10-year old son, Ziad. The kid has a special bond with the two giraffes in the zoo. He seems to be the only one to communicate with them. After an air raid in the region the male giraffe dies. His mate, Rita, won't survive unless the veterinarian finds her a new companion. The only zoo that might provide this animal is located in Tel Aviv .
French Synopsis :
Yacine est vétérinaire dans le dernier zoo de Palestine. Il vit seul avec son fils de 10 ans, Ziad. Celui-ci a un lien particulier avec les deux girafes du zoo, il semble être le seul à pouvoir communiquer avec elles. Une nuit, après un raid aérien dans la région, le mâle meurt. Rita, la femelle, ne peut pas vivre seule et se laisse doucement mourir au grand désespoir de Ziad. Yacine doit de toute urgence lui trouver un nouveau compagnon. Mais le seul zoo qui pourrait l'aider se trouve à Tel-Aviv…
Trailer
Photos
>>Download the images