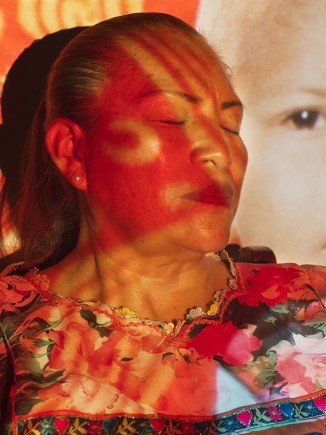 2023
France-Switzerland-Panama
85 min - DCP - 1.90 - Color
Official language : Spanish
DOWNLOADS

Download the presskit
Credits
Screenplay – Andres Peyrot & Elizabeth Wautlet
Image – Patrick Tresch & Nicolas Desaintquentin
Editing – Sabine Emiliani
Music – Grégoire Auger
Sound – Luis Lasso, Luis Bravo & Samy Bardet
Production – Brieuc Dréano & Andres Peyrot (Industrie Films), Johan De Faria (Upside Films)
Festivals & Awards
Venice Film Festival 2023, Critic's Week

In 1975, French Oscar-winning director Pierre-Dominique Gaisseau travels to Panama to film the Kuna community, where women are sacred. Gaisseau, his wife and their little girl Akiko live with the Kunas for a year. The project eventually runs out of funds and a bank confiscates the reels.
Fifty years later, the Kunas are still waiting to discover "their" film, now a legend passed down from the elders to the new generation. One day, a hidden copy is found in Paris...
French Synopsis :
En 1975, Pierre-Dominique Gaisseau, explorateur français fraîchement oscarisé pour son documentaire Le Ciel et la Boue, se rend au Panama pour réaliser un film sur la communauté fermée des Kunas, où la femme est sacrée. Gaisseau, son épouse et leur fille Akiko vivent avec les Kunas pendant une année. Mais le projet fait faillite et la copie est confisquée par une banque.
Cinquante ans plus tard, les Kunas attendent toujours de découvrir « leur » film, devenu une légende transmise par les plus anciens aux plus jeunes. Un jour, une copie cachée est retrouvée à Paris...
Photos
>>Download the images