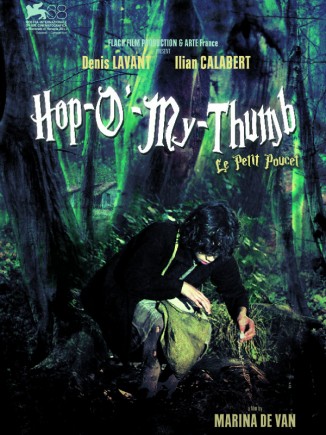 2011
France
82min - HD - Color - 1.85 - Stereo - Drama
Original language : French
Cast
Denis Lavant
Rachel Arditi
Adrien de Van
Ilian Calabert
Credits
Director: Marina de Van
Producer : Jean-François LEPETIT
Production Company : FLACH FILM PRODUCTION
Co-producer : Sylvette Frydman
Co-production Company : ARTE France
Screenplay : Bertrand Santini & Marina de Van
Director of photography : Vincent Mathias
Music : Alexeï Aigui
Editing : Mike fromentin
Costumes : Marielle Robaut
Festivals & Awards
2011 :
Venice IFF Official Selection Orizzonti - Competition
Sitges IFF
Tallinn Black Nights IFF 2012 : CPH PIX
Denmark Espoo Ciné IFF

Hop-o'-my-thumb and his four brothers are abandoned in the forest by their parents, unable to provide for them anymore. Incapable of finding their way back, they run into a cottage and ask for shelter. The woman who opens the door tries to convince them to flee because her husband is an ogre particularly fond of children's flesh. But the five brothers insist to take refuge, choosing the ogre over the wolves. When the ogre comes back, he discovers the children and wishes to devour them immediately but his wife persuades him to until the next day. During the night, Hop-o'-my-thumb, cunning and unwilling to die, manages to escape, saving his life and his brothers'. He will learn the rules of power in this world and understand that nobody is to be trusted. Finally, it's as a rich powerful dominator that this sweet and discreet boy will be back in his family.
French Synopsis :
Poucet et ses quatre frères sont abandonnés dans la forêt par leurs parents qui ne peuvent plus les nourrir. Incapables de retrouver le chemin du retour, les enfants arrivent devant une chaumière et demandent à y loger. La femme qui leur ouvre, tente de les persuader de ne pas entrer car son mari est un ogre amateur de chair d'enfants. Mais les cinq frères, préférant l'ogre aux loups de la forêt, insistent pour s'y réfugier. A son retour, l'ogre découvre les enfants et souhaite les dévorer aussitôt mais son épouse le convainc de remettre au lendemain ce festin. Dans la nuit, Poucet rusé et non résigné à mourir, réussit à s'échapper, sauvant sa vie et celle de ses frères. Il aura appris les règles du pouvoir en ce monde et compris qu'il ne peut accorder sa confiance à personne. C'est donc en dominateur fortuné que cet enfant doux et discret reviendra dans sa famille…
Photos
>>Download the images