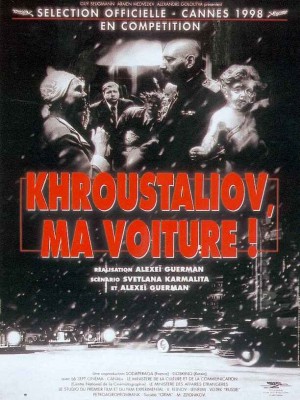 1998
France
137min - 35mm - 1.33 - Black&White - Historical drama
Original language :Russian
Cast
Youri Tsourilo
Nina Rouslanova
Yuri Yarvet
Michael Dementiev
Credits
Director: Alexei Guerman
Screenplay : Svetlana Karmalita & Alexei Guerman
Festivals & Awards
Cannes 1998 - Official competition - In competition
Khroustaliov, my car !
Khroustaliov, ma voiture !
a film by :Alexeï Guerman
1953 - Youri Glinski, military doctor and General in the Red Army, is the head of a large family. He spends his time between the hospital, his home, his mistresses and drink. Everything changes when, on Stalin's order, the KGB organizes the " Doctor's Plot ". Glinski has to flee. Arrested shortly after, he is sent to Gulag. With Satlin on his deathbed, Beria (head of KGB) frees Glinski and calls on his immense medical skills to save the Little Father of the People.
French Synopsis :
1953 - Youri Glinski, médecin chef et Général de l'Armée Rouge, est à la tête d'une famille nombreuse. Il partage son temps entre l'hôpital, sa maison, ses maîtresses et l'alcool. Tout va basculer quand, à l'initiative de Staline, le KGB organise le complot des " Blouses Blanches ". Glinski doit prendre la fuite. Arrêté peu après, il est envoyé au goulag. Staline mourant, Béria (à la tête du KGB) libère Glinski et fait appel à ses hautes compétences médicales pour sauver le Petit Père des Peuples.
Photos
>>Download the images