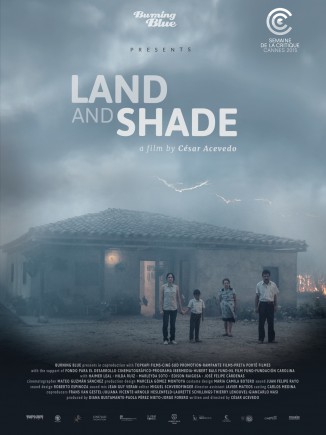 2015
Colombia
97min - DCP - 1.85 - Color - Drama
Original language: Spanish
DOWNLOADS

DOWNLOAD THE FLYER
Cast
Haimer Leal
Hilda Ruiz
Edison Raigosa
Credits
Director: César Acevedo
Image: Mateo Guzman
Editing: Miguel Scheverdfinger
Producers: Diana Bustamente Escobar, Paola Andrea Perez Nieto, Jorge Forero
Production companies: BURNING BLUE / PRETA PORTE FILMS / CINE-SUD PROMOTION / TOPKAKI FILMS
Festivals & Awards
AWARDS
2015 - CANNES FILM FESTIVAL - CRITICS' WEEK
CAMERA D'OR
Tofi Fest in Poland
The Silver Angel award for the best director
Mumbai Film Festival 2015
Special Jury Mention
56th Thessaloniki International Film Festival
Special Jury Award - Silver Alexander
Human Values Award
Fischer Audience Awards
Bratislava International Film Festival
Best Film and FIPRESCI Award
AFI FEST Los Angeles
Grand Jury, New Auteurs Award
YAMAGATA International Documentary Film Festival
Mayor's Prize
FESTIVALS 2015
Cannes Film Festival - Semaine de la Critique
Munich Film Festival
Melbourne Film Festival
Karlovy Vary Film Festival
Jerusalem Film Festival
Cine Vivo Film Festival - Perth, Australia.
San Sebastian Film Festival
EURASIA International Film Festival,Kazakhstan
Bergen International Film Festival
Busan Intl Film festival
Latin Beat Tokyo Film festival
Warsaw Film Festival
Lakino :: Latin American Film Festivals Berlin
International Film Festival Tofifest
Doc Lisboa
Tokyo Intl Film Festival
Mumbai Film Festival
Thessaloniki Film festival
International Film Festival Bratislava
IFFI Goa
This human world International HR Film fest, Austria
International Film Festival of Kerala
FESTIVALS 2016
Goteborg International Film Festival
Glasgow international Film Festival
Kosmorama Trondheim
The Korean Film Archive - special screening
Hong Kong International Film Festival

Alfonso is an old farmer who has returned home to tend to his son, who is gravely ill. He rediscovers his old house, where the woman who was once his wife still lives, with his daughter-in-law and grandson. The landscape that awaits him resembles a wasteland. Vast sugar cane plantations surround the house, producing perpetual clouds of ash. 17 years after abandoning them, Alfonso tries to fit back in and save his family.
French Synopsis :
Alfonso est un vieux paysan qui revient au pays pour se porter au chevet de son fils malade. Il retrouve son ancienne maison, où vivent encore celle qui fut sa femme, sa belle-fille et son petit-fils. Il découvre un paysage apocalyptique : le foyer est cerné par d'immenses plantations de cannes à sucre dont l'exploitation provoque une pluie de cendres continue. 17 ans après avoir abandonné les siens, Alfonso va tenter de retrouver sa place et de sauver sa famille.
Trailer
Photos
>>Download the images