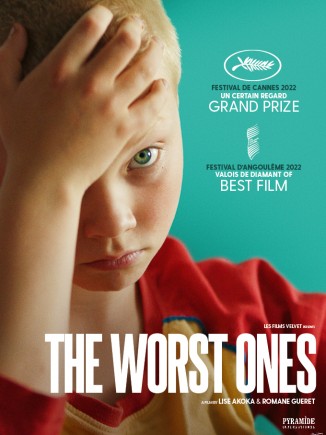 2022
France
99min - DCP - Scope - Color
Original language: French
Copyright photo (c) Eric DUMONT - Les Films Velvet
DOWNLOADS

Download the presskit

Download the poster
Cast
Mallory WANECQUE
Timéo MAHAUT
Johan HELDENBERGH
Loïc PECH
Mélina VANDERPLANCKE
Esther ARCHAMBAULT
Matthias JACQUIN
Angélique GERNEZ
Dominique FROT
Rémy CAMUS
François CRETON
Carima AMAROUCHE
Credits
Directors: Lise AKOKA et Romane GUERET
Script: Lise AKOKA, Romane GUERET et Éléonore GURREY
Image: Eric DUMONT - AFC
Casting : Marlère SEROUR
Editing: Albertine LASTERA
Production: Marine ALARIC and Frédéric JOUVE, Les Films Velvet
Festivals & Awards
2022 Cannes Films Festival - Official Selection - UN CERTAIN REGARD - GRAND PRIZE
2022 - Angoulême Film Festival - Competition - Best Film Award
2022 - Alice nella Citta Rome IFF - Competition - Best Actress Award

2022 American French Film Festival - Best Debut Feature Award
2022 Haifa IFF - Honorable Mention in our Golden Anchor Competition*
2022 Cork IFF - Special Mention
2022
Toronto Film Festival - Contemporary World Cinema
Sarajevo IFF
Haugesund IFF
Adana Golden Boll FF
Reprise de Films de Cannes in Madagascar
Helsinki IFF
Filmfest Hamburg
Namur IFF
Ale Kino!
BFI London IFF
Festival Nouveau Cinema de Montreal
Festival do Rio
Newport Beach FF
Bergen IFF
Mostra de Valencia - Cinema del Mediterrani
Les Films de Cannes à Bucarest
Pingyao IFF
Taipei Golden Horse IFF
Thessaloniki IFF
Arava Desert IFF
Zagreb IFF

A film shooting will take place at the cité Picasso, in the suburbs of Boulogne-Sur-Mer, in the north of France. During the casting, four teenagers, Lily, Ryan, Maylis and Jessy are chosen to play in the film. Everyone in the neighborhood is surprised: why only take the "worst ones »?
French Synopsis :
Un tournage va avoir lieu cité Picasso, à Boulogne-Sur-Mer, dans le nord de la France. Lors du casting, quatre ados, Lily, Ryan, Maylis et Jessy sont choisis pour jouer dans le film. Dans le quartier, tout le monde s'étonne : pourquoi n'avoir pris que « les pires » ?
Trailer
Photos
>>Download the images