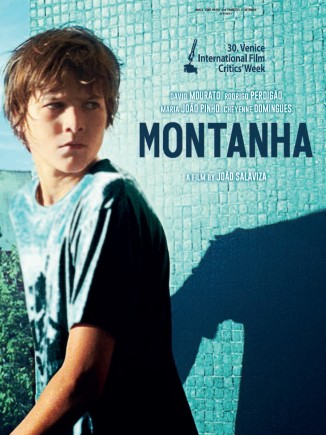 2015
France - Portugal
91min - DCP - 1.85 - Color
Original language: Portuguese
DOWNLOADS

DOWNLOAD THE PRESS KIT
Cast
David Mourato
Maria João Pinho
Rodrigo Perdigão
Cheyenne Domingues
Ema Araújo
Carloto Cotta
Ana Cris
Margarida Fernandes
Credits
Director and writer : João Salaviza
Cinematographer :Vasco Viana
Editing : Edgar Feldman, João Salaviza
Sound : Olivier Blanc
Producers: Maria Joao Mayer (FILMES DO TEJO II), François d'Artemare (LES FILMS DE L'APRES MIDI)
Festivals & Awards
SHORT FILMS' AWARDS
RAFA – Short – Golden Bear Berlin 2012
ARENA – Short – Golden Palm Cannes 2009
MONTANHA'S AWARDS
Manaki Brothers Intl Film Festival Macedonia
BEST CINEMATOGRAPHY AWARD
FESTIVALS 2015
Venice Film Festival - Critics' Week
San Sebastian Film Festival
Manaki Brothers Intl Film Festival Macedonia
Curtcircuito. Santiago de Compostela International Film Festival.
39th São Paulo International Film Festival
Portuguese Film Festival in Russia
Portuguese Film Festival in Madrid
Kerala Intl Film festival, India
FESTIVALS 2016
Rotterdam Intl Film Festival
Portuguese Film Festival in Sweden
Festival International du Film d'Amour de Mons
European Union Film Festival in Hong Kong
BAFICI Buenos Aires Intl Film Festival

A hot summer in Lisbon. David, 14, awaits the imminent death of his grandfather but refuses to visit him, fearing this terrible loss. His mother, Mónica, spends her nights at the hospital. The void already left by his grandfather forces David to become the man of the house. He doesn't feel ready to assume this new role, but without realizing it: the more David tries to avoid adulthood, the more he gets closer to it…
French Synopsis :
Un été brûlant à Lisbonne. David, 14 ans, est dans l'attente de la mort imminente de son grand-père mais refuse de lui rendre visite, de peur de le perdre. Mónica, la mère de David, passe ses nuits à l'hôpital. Le vide que laisse déjà son grand-père oblige David à devenir l'homme de la maison. Il sent qu'il n'est pas prêt à endosser ce nouveau rôle, mais sans s'en rendre compte, plus il cherche à éviter la vie d'adulte, plus il s'en rapproche.
Trailer
Photos
>>Download the images