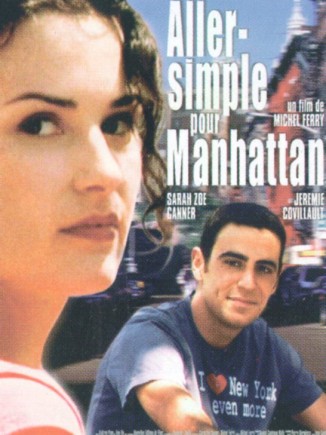 2002
France
78min - 35 mm shot in DV - 1.85 - Color - Drama comedy
Original language : French, English
Cast
Jérémie Covillaut
Sarah Zoe Canner
Andrew Pang
Credits
Director: Michel Ferry
Producer : Manuel Cuotemoc Malle
Production Company : NOUVELLES EDITIONS DE FILMS
Co-production Company : Sammler / Taxila
Screenplay : Sarah Canner & Michel Ferry
Sound : Andrew Freiband
Music : Jean-Pierre Sluys & Jean-Claude Ghrenassia
Editing : Manuel Cuotemoc Malle & Barbara von Wietershausen
Costumes : Martha Gretsch
Set : Mylène Graziano
Petty Crimes
ALLER SIMPLE POUR MANHATTAN
a film by :Michel Ferry
Michel/Mike is a French guy in New-York. He runs. He runs through the Village so he won't get deported, so he can get closer to that girl on Rollerblades : Zoe. She's always just out of reach. Mike could stop running and use his pickpocket skills, but honesty has become his obsession and convincing Zoe of raw milk camembert's virtues, his mission.
French Synopsis :
Michel est un clandestin new-yorkais. Il se fait appeler Mike et vit de vols à l'arrachée. Lorsqu'il rencontre Zoé, sa situation est plus que précaire. Il ne lui reste plus que trois jours pour trouver 2500 dollars et régulariser sa situation.
Mike alterne alors les petits boulots. Ca rapporte peu, mais c'est un travail honnête et il voudrait rester pour convaincre Zoé des vertus du camembert au lait cru...
Photos
>>Download the images