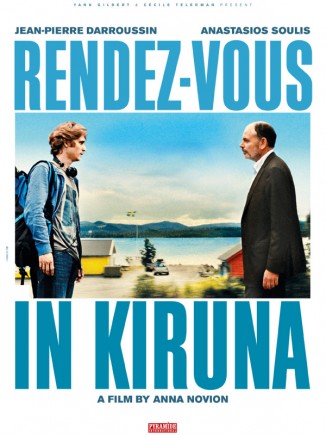 2012
France - Sweden
97min - DCP - 1.85 - Color
Original language: French, Swedish
DOWNLOADS

Download the Flyer
Cast
Jean-Pierre Darroussin,
Anastasios Soulis
Claes Ljungmark
Credits
Director: Anna Novion
Producer : Yann Gilbert
Production Company : LA MOUCHE DU COCHE
Co-producer : Cécile Telerman (Les Films de la Greluche)
Co-production Company : With the participation of CNC, TPS Star & Ciné+ In association with Cinémage 6 Uni Etoile 9
Screenplay : Olivier massart, Anna Novion, Pierre Novion
Director of photography : Pierre Novion
Sound : Cédric deloche, Anne Gibourg, Emmanuel Croset
Music : Pascal Bideau
Editing : Anne Souriau
Costumes : Mia Andersson
Festivals & Awards
2012 :
Cairo 2012 - Best Film
2013 :
Goteborg IFF
COLCOA
Denver French FF
GOLDEN APRICOT Yerevan IFF
Detour FF Italy
Mosta Internacional de Cinema Sao Paulo
French Cinema Now Seattle

Ernest, a successful French architect, is devoted to his work. One day, a phone call from The Swedish Police convinces him to undergo a long trip toward Kiruna in Laponia. He must go to recognize the body of a perfect stranger… his own son, whom he never met, nor desire. The convictions of this bossy and suspicious man will eventually be shaken after his encounter with Magnus, a lost and sensitive young man who has nothing in common with Ernest. Finally, the company of this substitute son throughout this journey will confront Ernest to an unknown part of him and help him better understand this rendez-vous in Kiruna…
French Synopsis :
Ernest, un architecte renommé, ne vit que pour son travail. Un jour, il reçoit un appel de la police suédoise qui le décide à entreprendre un long voyage jusqu'à Kiruna, en Laponie. Il doit y reconnaître le corps d'un parfait étranger, son fils qu'il n'a jamais connu, ni désiré. La rencontre avec Magnus, un jeune homme sensible et perdu que tout oppose à Ernest, va ébranler les certitudes de cet homme autoritaire et méfiant. Et ce voyage en compagnie d'un fils possible, va révéler à Ernest une part inconnue de lui-même et l'aider à mieux comprendre ce rendez-vous à Kiruna.
Trailer
Photos
Notice
: ZipArchive::addFile(): Empty string as filename in
/var/www/vhosts/pyramidefilms.com/inter/templates/seb_minima/positions/les_films/content/mainbody.php
on line
200
>>Download the images