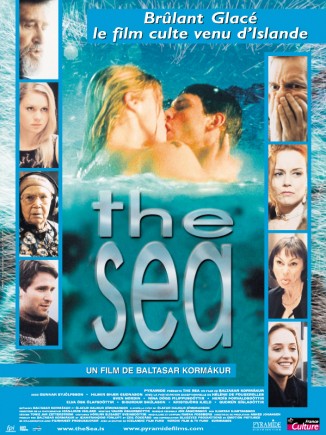 2002
France - Norway - Iceland
110min - 35 mm - Scope - Color - Drama
Original language : Icelandic, English
Cast
Gunnar Eyjolfsson
Hilmir Snaer Guonason
Hélène de Fougerolles
Credits
Director: Baltasar Kormakur
Producer : Baltasar Kormakur
Production Company : BLUEEYES PRODUCTION
Co-producer : Jean-François Fonlupt
Co-production Company : EMOTION PICTURE, FILMHUSET
Screenplay : Baltasar Kormakur & Olafur Haukur Simonarson
Director of photography : Jean-Louis Vialard
Music : Jón Ásgeirsson
Editing : Valdís Óskarsdóttir
Costumes : órunn Elísabet Sveinsdóttir
Set : Tonie Jan Zetterström
Festivals & Awards
2002:
Toronto Film Fest
San Sebastian Film Fest - Official Competition
FCMM Fest
Black Nights Film Fest in Estonia
Budapest Film Fest
2003:
Tromso Film Fest
Audience Award Sundance Film Fest
Rotterdam Film Fest
Goteborg Film Fest
Hong kong Film fest
Singapore Film Fest
Istanbul Film Fest
Winner of the FIPRESCI Award
Sydney Film Fest
Karlovy Vary Film fest
Wellington Film Fest
Melbourne Film Fest
Arsenal Film Fest
Hamburg Film Fest
Rio Film Fest
Seoul European Film Fest
Sea (The)
Hafid
a film by :Baltasar Kormakur
Feeling his strength declining, Thordur, the old, feared and respected head of his family, invites his children to come back to the village; he wants to set his affairs in order: their mother's inheritance and also the business of the family company - the work of his life - which has made him one of the most powerful men in this small Icelandic fishing community. His hopes rest on Agust, his younger son, a business student in Paris where he is living with a French girlfriend. Thordur is convinced that Agust will come back and stay after his studies in order to take over the fishery currently managed by Haraldur, Thordur's older son whom he does not totally trust.
But Thordur doesn't know that Agust has totally different plans for his future. The family gathering will not go off as everyone is expecting or hoping. The ghosts will surface...
French Synopsis :
Sentant ses forces décliner, Thordur, chef de famille craint et respecté, a invité ses enfants à revenir au village parce qu'il veut mettre de l'ordre dans ses affaires : l'héritage de leur mère et l'entreprise familiale, l'oeuvre de sa vie, qui a fait de lui l'un des hommes les plus puissants de ce petit village de pêcheurs d'Islande. Son espoir repose sur Agust, son plus jeune fils, parti faire des études de commerce à Paris, où il a épousé une Française. Thordur est convaincu qu'Agust reviendra au village à la fin de ses études, pour diriger la conserverie, aujourd'hui entre les mains de Haraldur, son fils aîné, qui ne jouit pas de toute sa confiance. Mais Thordur ne sait pas qu'Agust a abandonné ses études depuis longtemps pour devenir compositeur. La réunion de famille ne se déroulerera pas comme chacun l'avait prévu ou espéré. Les monstres referont surface...
Trailer
Photos
>>Download the images