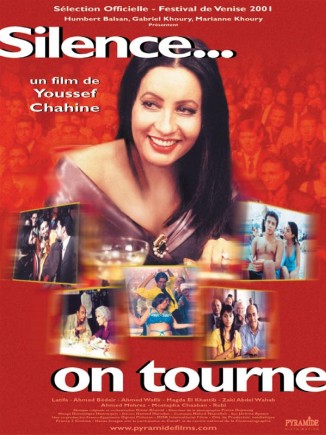 2001
France - Egypt
108min - 35 mm - 1.85 - Color - Comedy
Original language : Arabic
Cast
Latifa Ahmed
Wafik Ahmed Bédeir
Magda El Khatib
Credits
Director: Youssef Chahine
Producer : Humbert Balsan
Production Company : OGNON PICTURES
Co-producer : Gabriel Khoury Marianne Khoury
Co-production Company : MISR FILM INTERNATIONAL / 3 2 cinéma / Havas Image
Screenplay : Youssef Chahine
Director of photography : Pierre Dupouey
Sound : Jérôme Ayasse
Music : Omar Khairat
Editing : Rachida Abdel Salam and Tamer Ezzat
Costumes : Nahed Nasrallah
Festivals & Awards
2001:
Venice Film Festival - Out of competition
New York Film Festival
Chicago Film Festival
2002:
Rotterdam Film Fest
Gotteborg Film Fest
Hong Kong Film Fest
Nat Film Fest Dk
Philadelphia Film Fest
Brisbane Film Fest
Melbourne Film Fest
New Zealand Film Fest
Cleveland Film Fest
Vancouver Film Fest
Film From the South
Norway
Gwanju Film Fest
2003:
Bangkok Film Fest
Danish Film Institute
Silence, we're rolling
SILENCE...ON TOURNE
a film by :Youssef Chahine
Malak is wealthy, a star of song and screen. In the aftermath of an unsettling divorce, she falls for a charming social climber named Lamei. Love turns to obsession. Her regular screenwriter and director both discourage the relationship, which jeopardizes Malak's career, by leading Lamei tobelieve that her fortune has been entailed on her daughter Paula. The ploy works. Lamei pays court to Paula and reveals his despicable motives.
French Synopsis :
La riche cantatrice et actrice Malak cherche à être aimée pour elle-même. Blessée par son divorce, elle tombe sous le charme d'un arriviste, Lamei, jusqu'à vivre pour lui une passion obsédante. Son scénariste et son metteur en scène cherchent à la séparer de cet individu qui met en péril sa carrière. Ils font croire à Lamei que la fortune familiale va aller à la fille de Malak, Paula. Lamei tombe dans le panneau, courtise Paula, et sa convoitise est révélée au grand jour...
Photos
>>Download the images