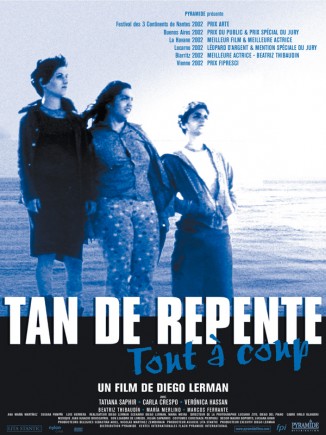 2002
Argentina
94min - 35 mm - 1.85 - B&W - Drama comedy
Original language : Spanish


Cast
Tatiana Saphir
Carla Crespo
Veronica Hassan
Beatriz Thibaudin
Maria Merlino
Marcos Ferrante
Credits
Director: Diego Lerman
Producer : Lita Stantic & Diego Lerman
Production Company : LITA STANTIC PRODUCCIONES
Co-production Company : NYLON CINE/INCAA / Hubert Bals Fund
Screenplay : Diego Lerman & Maria Meira
Director of photography : Luciano Zito & Diego del Piano
Sound : Leandro de Loredo & Julian Capparos
Music : Juan Ignacio Bouscayrol
Editing : Benjamin Avila & Alberto Ponce
Costumes : Constanza pierpaoli
Set : Mauro Doporto & Luciana Kohn
Festivals & Awards
2002
Buenos Aires Film Fest
Winner of the Public Award & Jury Special Award
Locarno
Winner of the Silver Leopard
Special mention of the jury for the whole cast
Toronto Film Festival
Biarritz Latin America Fim Fest
Winner of "Best actress" for Beatriz Thibaudin
Viennale Film Fest
Winner of the FIPRESCI Prize
Huelva Iberoamericano Film Festival
winner of the Colon de Plata for best original script
winner of the Carabela de Plata for best new director
Rencontres Internationales de Cinéma in Paris
London Film Festival
Havana Latin American Film Fest
Winner of Best film
Winner of best ensemble cast
Festival des 3 continent
Arte prize

2003
Tromso Film Festival
Rotterdam Film Fest
Hong Kong Film Fest
Singapore Film Fest
Istanbul Film Fest - Winner of Best international Film - "Golden Tulip"
Hong Kong Film Festival
Cinema Jove
Midnight Sun Fest
Karlovy Vary Film Fest
Wellington Film Fest
Melbourne Film Fest
Sarajevo Film Fest
Helsinki film fest
Art Film Fest
Festival de cine de Asunción
Festival de cine de Cuenca
Tampa International Gay & Lesbian Film Festival
Copenhagen Gay & Lesbian Film Festival
The Rochester Lesbian & Gay Film & Video Festival
Out on Film Atlanta Gay & Lesbian Film Festival
Warsaw Film Fest
Turku Gay Film Fest
Black Nights Fest
Seoul Indie Film Fest
Hong Kong Gay & lesbian Film Fest
2004 :
Sydney Gay & Lesbian Film Fest
Melbourne Gay & Lesbian Film Fest
Brisbane Gay & Lesbian Film Fest
Madrid, Valencia and Valladolid
Gay & Lesbian Film Fest
SUDDENLY
TAN DE REPENTE
a film by :Diego Lerman
Marcia is young and fat and lives a grey, routine life in the city of Buenos Aires. Mao and Lenin, a punk girl couple, run into Marcia and for some strange reason decide to express their love for her. Fanciful Mao declares she's in love with Marcia and offers to prove it. "The love which has no explanation can be proved, and proof is worth as much as love," Mao tells her. From there on, the three (daring couple and bewildered Marcia) leave Buenos Aires on a journey whose end and date of return keep been delayed due to all the unforeseen things that happen to them. The journey they're on gets stranger and stranger, with constant changes of landscape and pace, and with fantasy and lots of humour. A search for a place that's impossible yet eternal, a place they keep on leaving behind.
French Synopsis :
Marcia est une grosse jeune fille qui mène une vie routinière à Buenos Aires. Mao et Lénine, un couple de filles punk, tombe sur elle et, pour une raison inexplicable, s'entête à lui démontrer son amour. Mao se dit amoureuse de Marcia et pour qu'elle n'en doute pas, lui offre une preuve d'amour. ""Car l'amour qui n'a pas d'explications a des preuves, et les preuves sont aussi valables que l'amour"" lui dira Mao. C'est alors que les trois filles (les unes intrepides, l'autre étourdie), entreprennent un voyage depuis Buenos Aires, à une destination et à un retour incertains, toujours remis à plus tard au gré du hasard. Ce voyage plein d'humour s'avère surprenant, riche en changements de paysages, rythmes et fantaisies. Un parcours à la recherche d'un lieu impossible et perpétuel à la fois, un lieu qu'elles ne cessent de laisser derrière elles.
Trailer
Photos
>>Download the images