Teona Strugar Mitevska
Films in our catalogue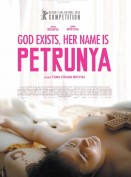 In Stip, a small town in Macedonia, every January the local priest throws a wooden cross into the river and hundreds of men dive after it. Good fortune and prosperity are guaranteed to the man who retrieves it. This time, Petrunya dives into the water on a (...)
Biography
Teona Strugar Mitevska was born in 1974 in an artistic family in Skopje, Macedonia. She started as a child actor, trained as a painter and a graphic designer and later studied at M.F.A program in film at the Tisch School of Arts, New York University. She made her debut as short film director in 2001 with VETA (Special Jury Prize Berlin Film Festival 2002). HOW I KILLED A SAINT (Rotterdam Film Festival, Tiger Awards 2004) is her first feature made under the auspices of SISTERS AND BROTHER MITEVSKI, a company she established together with her brother Vuk and sister Labina. I AM FROM TITOV VELES, premiered at the 2007 Toronto Film Festival (Discovery Section), and was shown in Berlin Film Festival 2008 (Panorama) and Cannes film festival (ACID). THE WOMAN WHO BRUSHED OFF HER TEARS premiered at 2012 Berlin Film (Panorama Special) and in 2013 she shot and edited TERESA AND I, a feature documentary about Mother Teresa, her life and work through the perspective of a woman of today. In 2016, WHEN THE DAY HAD NO NAME, premiered at the 2017 Berlin Film Festival (Panorama Special).
GOD EXISTS, HER NAME IS PETRUNIJA shot in January 2018, will be premiered in Competition in Berlin Film Festival 2019.
Since its founding, SISTERS AND BROTHER MITEVSKI, have co-produced THE WILD PEAR TREE by Nuri Bilge Ceylan; NIGHTLIFE by Damjan Kozole and SIERRANEVADA by Christi Puiu.
Teona Strugar Mitevska lives in Brussels, Belgium with her son Kaeliok.