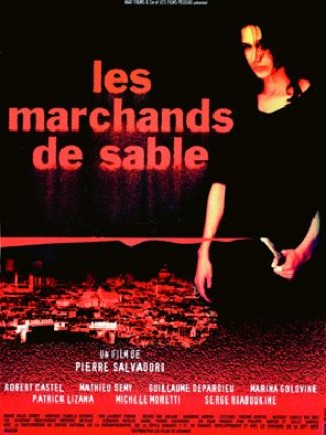 2000
France
95min - 1.85 - Color - Detective drama
Original language: French
Cast
Robert Castel
Mathieu Demy
Guillaume Depardieu
Credits
Director: Pierre Salvadori
Script: Nicola Saada, Pierre Salvadori
Image: Gilles Henry
Editing: Isabelle Devinck
Music: Camille Bazbaz
Producers: Philippe Martin (LES FILMS PELLEAS), Gilles Sandoz
Festivals & Awards
2000:
Festival International du Film Francophone, Namur, Belgium
London Film Festival
Mostra de Valencia - Cinema del Mediterrani
Göteborg Film Festival
Umea International Film Festival, Umea, Sweden
THE SANDMEN
LES MARCHANDS DE SABLE
a film by :Pierre Salvadori
Paris today, a working-class neighbourhood, a square. Two bars stand facing each other as they would in the main street of a town in the Far West. Marie is 25 years old and has come back to Paris after a long absence in search of a brother, Antoine. She finds a young man who has changed. He hangs out with a rough crowd and is killed soon afterwards in circumstances that are unclear. Marie will move heaven and earth to avenge her brother's death.
French Synopsis :
Sur une petite place parisienne, la drogue s'achète, se revend, les machines à sous s'installent, les bars changent de propriétaires, l'argent circule. Acteurs plus ou moins conscients de ces trafics, des jeunes gens en vivent et en meurent. Alain, un patron de bar, regarde ce monde sans comprendre ni agir, jusqu'au jour où une jeune fille, Marie, lui demande de l'aider à retrouver les assassins de son frère.
Photos
>>Download the images