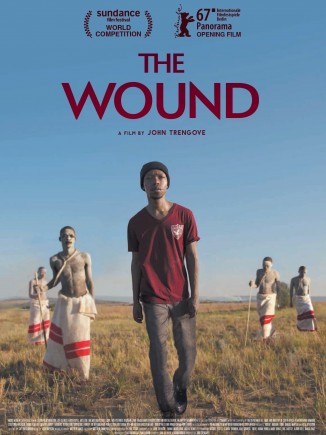 2016
South Africa - France - Germany - Austria
88min - DCP - Scope - Color - Drama
Original language: Xhosa
DOWNLOADS

DOWNLOAD THE PRESS KIT
Cast
Nakhane Touré
Bongile Mantsai
Niza Jay Ncoyini
Credits
Director: John Trengove
Script: John Trengove, Thando Mgoolozana, Malusi Bengu
Image: Paul Ozgur
Editing: Matthew Swanepoel
Music: Joao Orecchia
Producers: Elias Ribeiro, Cait Pansegrouw (URUCU MEDIA, South Africa)
Co-producers: Michael Eckelt (RIVA FILMPRODUKTION), Claudia Tronnier (DAS KLEINE FERNSEHSPIEL), Olaf Grunert (ARTE/ZDF), Trent (OAK MOTION PICTURES), Batana Vundla (COOL TAKE PICTURES), Marie Dubas (DEUXIEME LIGNE FILMS),
Eric Lagesse (SAMPEK PRODUCTION), Björn Koll (EDITION SALZGEBER), Bianca Isaac (FIGJAM ENTERTAINMENT)
Festivals & Awards
AWARDS
Special Mention
MOOV Intl Film Festival Belgium 2017
Best Film award
Sarasota Film Festival 2017
Audience Award
Sydney Film Festival 2017
Best film Award
Torino LGBTQI Film Festival 2017
Best Actor (Nakhane Touré)
Best Movies Award
Valencia Cinema Jove Film Festival, Spain 2017
Grand Prize
Taipei Intl Film Festival 2017
Grand Jury Prize​ in the International Competition Section
Mumbai Film Festival 2017
Audience Award for Best Film
Queer Porto Film Festival 2017
Best Feature Film
International Queer & Migrant Film Festival, Amsterdam 2017
FESTIVALS 2017
SUNDANCE 2017 – World cinema competition
BERLINALE 2017 – Panorama opening film
New Directors / New Films USA
Mooov Film Festival, Belgium – Official Competition
Netia Off Camera International Festival of Independent Cinema, Poland – Official Competition
Sydney Intl Film Festival
TLV GLBT Film Festival Opening Film
32° Torino LGBTQI Film Festival, Italy – Official Competition
Valencia cinema Jove, Spain – Official Competition
Taipei Film Festival, Taiwan – Official Competition
NZ Intl Film Festival
Internacional Film Festival Santander –Fics, Colombia
Melbourne Intl Film Festival
World Cinema Amsterdam
Faroe Islands Int'l Minority Film Festival
Hong Kong Lesbian & Gay Film Festival
Helsinki Intl Film Festival
Queer Porto
CPH PIX
61st BFI London Film Festival
Mumbai Film Festival
Cinemafrica Bologna, Italy
Seoul PRIDE Film Festival
Mezipatra Queer Film Festival, Cz republic
58th Thessaloniki International Film Festival
Pink Screens Bruxelles
48th International Film Festival of India, Goa
Singapore International Film Festival Ltd
International Queer & Migrant Film Festival Amsterdam
FESTIVALS 2018
41st Göteborg Film Festival
!f istanbul Film festival
Bengaluru International Film Festival, India
CinemAfrica Film Festival Stockholm
Outview Film Festival, Greece
Cinema Diverse Bangkok
27th Rainbow Reel Tokyo
Africa Film Trinidad and Tobago
QCinema Film Festival Philippines
Festival cinema Africano Verona
Rainbow reel Tokyo

Xolani, a lonely factory worker, joins the men of his community in the mountains of the Eastern Cape to initiate a group of teenage boys into manhood. When a defiant initiate from the city discovers his best kept secret, Xolani's entire existence begins to unravel.
French Synopsis :
Afrique du sud, montagnes du Cap Oriental. Comme tous les ans, Xolani, ouvrier solitaire, participe avec d'autres hommes de sa communauté aux cérémonies rituelles d'initiation d'une dizaine d'adolescents. L'un deux, venu de Johannesburg, découvre un secret précieusement gardé… Toute l'existence de Xolani menace alors de basculer.
Trailer
Photos
>>Download the images