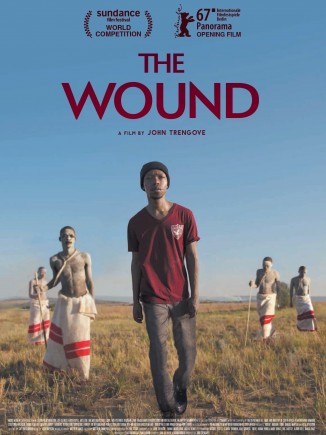 2016
South Africa - France - Germany - Austria
88min - DCP - Scope - Color - Drama
Original language: Xhosa
DOWNLOADS

DOWNLOAD THE PRESS KIT
Cast
Nakhane Touré
Bongile Mantsai
Niza Jay Ncoyini
Credits
Director: John Trengove
Script: John Trengove, Thando Mgoolozana, Malusi Bengu
Image: Paul Ozgur
Editing: Matthew Swanepoel
Music: Joao Orecchia
Producers: Elias Ribeiro, Cait Pansegrouw (URUCU MEDIA, South Africa)
Co-producers: Michael Eckelt (RIVA FILMPRODUKTION), Claudia Tronnier (DAS KLEINE FERNSEHSPIEL), Olaf Grunert (ARTE/ZDF), Trent (OAK MOTION PICTURES), Batana Vundla (COOL TAKE PICTURES), Marie Dubas (DEUXIEME LIGNE FILMS),
Eric Lagesse (SAMPEK PRODUCTION), Björn Koll (EDITION SALZGEBER), Bianca Isaac (FIGJAM ENTERTAINMENT)
Festivals & Awards
SUNDANCE 2016 – WORLD CINEMA COMPETITION
BERLINALE 2016 - PANORAMA OPENING FILM

Xolani, a lonely factory worker, joins the men of his community in the mountains of the Eastern Cape to initiate a group of teenage boys into manhood. When a defiant initiate from the city discovers his best kept secret, Xolani's entire existence begins to unravel.
French Synopsis :
Afrique du sud, montagnes du Cap Oriental. Comme tous les ans, Xolani, ouvrier solitaire, participe avec d'autres hommes de sa communauté aux cérémonies rituelles d'initiation d'une dizaine d'adolescents. L'un deux, venu de Johannesburg, découvre un secret précieusement gardé… Toute l'existence de Xolani menace alors de basculer.
Trailer
Photos
>>Download the images