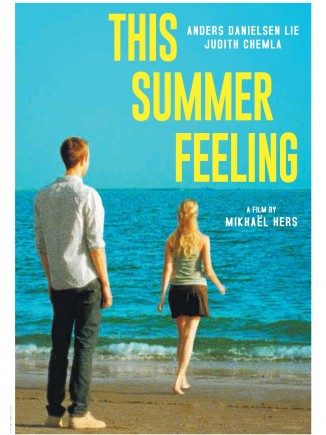 2015
France - Germany
106min - DCP - 1.85 - Color
Original language: French, English
DOWNLOADS

DOWNLOAD THE FLYER
Cast
Anders Danielsen Lie
Judith Chemla
Marie Rivière
Féodor Atkin
Credits
Director:Mikhaël Hers
Script: Mikhaël Hers, Mariette Désert
Image: Sébastien Buchmann, A.F.C.
Editing: Marion Monnier
Music: David Sztanke "Tahiti Boy"
Producers: Pierre Guyard
Associate producers: Christophe Rossignon, Philip Boëffard, François Machuel
Coproducers: Vanessa Ciszewski, Olivier Père, Rémi Burah
Production companies: NORD-OUEST FILMS, ARTE FRANCE CINEMA, KATUH STUDIO, RHONES-ALPES CINEMA
Festivals & Awards
FESTIVALS 2016
Rotterdam 2016 - Big Screen Award Competition
Rendez-vous avec le nouveau cinéma français à Rome 13th IndieLisboa
International Independent Film Festival
Portugal Festivals de Films Cinemania à Montréal
Summer Screening Medellín International Film Festival
Colombia Summer screenings at French Institute Alliance Française NY
Munich Intl Film Festival
Tokyo International Film Festival
Hip Trip Travel Film Festival Romania
Festival du Film Français de Roumanie
Cairo International Film Festival
HK French Film Festival
THIS SUMMER FEELING
CE SENTIMENT DE L'ETE
a film by :Mikhaël Hers

In high summer, Sasha, 30, dies suddenly. Her death brings two virtual strangers, her boyfriend Lawrence and sister Zoé, closer together, sharing their grief and the burden of their loss in Berlin, Paris and New York. Three summers, three cities, the time it takes for the light to return, carried by the memory of their loved one.
French Synopsis :
Au milieu de l'été, Sasha, 30 ans, décède soudainement. Alors qu'ils se connaissent peu, son compagnon Lawrence et sa sœur Zoé se rapprochent. Ils partagent comme ils peuvent la peine et le poids de l'absence, entre Berlin, Paris et New York.Trois étés, trois villes, le temps de leur retour à la lumière, portés par le souvenir de celle qu'ils ont aimée.
Trailer
Photos
>>Download the images