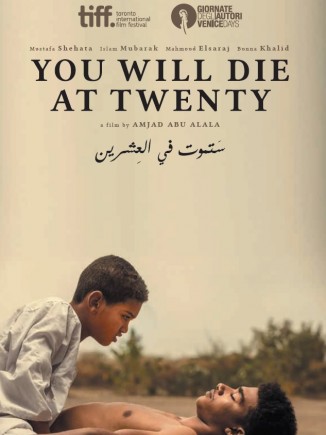 2019
Sudan - France - Egypt - Germany - Norway - Qatar
105min - DCP - Scope - Color
Original language: Arabic
DOWNLOADS

Download the presskit
Cast
Mustafa Shehata
Islam Mubarak
Mahmoud Elsaraj
Bunna Khalid
Talal Afifi
Amal Mustafa
Moatasem Rashid
Asjad Mohamed
Credits
Director: Amjad Abu Alala
Script: Amjad Abu Alala, Yousef Ibrahim
Image: Sébastien Goepfert
Editing: Hiba Osman
Music: Amine Bouhafa
Producers: Arnaud Dommerc, Hossam Elouan, Ingrid Lill Høgtun, Michael Henrichs
Production : ANDOLFI (France), TRANSIT FILMS (Egypt), DUOFILM (Norway), DIE GESELLSCHAFT DGS (Germany)
Co-producers: Amjad Abu Alala, Mohammed Alomda, Linda Bolstad Strønen, Marie Fuglestein Lægreid, Mohamed Hefzy
Co-production companies: STATION FILMS (Sudan), FILM CLINIC (Egypt)
Festivals & Awards
AWARDS
LION OF THE FUTURE "LUIGI DE LAURENTIIS" VENICE AWARD FOR A DEBUT FILM
Venice Film Festival
BEST FILM
Egypt's El Gouna Film Festival
SPECIAL JURY MENTION
Guanajuato IFF
SPECIAL JURY MENTION FOR BEST SOUNDTRACK
Odesa IFF
BEST DIRECTOR
Malmö Arab FF
FESTIVALS 2020
International Film Festival Rotterdam - Voices
Palm Springs IFF
Int. Film& Music Festival Kustendorf
Arthouse Asia FF Kolkata
Goteborg IFF
Africa Alive Festival
Bengaluru IFF
New African AFI Film Festival
Vilnius IFF
Febiofest
Festival du Film de Mons
FESTIVALS 2019
Venice Film Festival - Venice Days
Toronto Film Festival - Contemporary World Cinema
El Gouna Film Festival
Hamburg film festival
Tubingen Arab Festival
Busan Film Festival
Film Festival Cologne
MAMI 21st Mumbai Film Festiva - International Competition
JCC Journée Cinematographiques Carthage
Thessaloniki Film Festival - Open Horizons
Films From South Festival in Oslo
Black Nights Film Festival / Pimedate Ööde Filmifestival (PÖFF) - Arab Films Focus
50th International Film Festival of India, Goa - World Cinema
Around the World in 14 Films, Berlin
Kerala IFF
Muestra Cine Africano
Afrykamera
Around the World in 14 Films Festivals

Sudan, province of Aljazira, nowadays - When Muzamil was born, a prophecy by the holy man of the village predicts that he will die when he is 20 years old. Muzamil's father cannot stand the doom and
travels away from home. Sakina, as a single mother, raises her son with over protection. One day, Muzamil turns 19...
French Synopsis :
Soudan, province d'Aljazira, de nos jours. Peu après la naissance de Mozamil, le chef religieux du village prédit qu'il mourra à 20 ans. Le père de l'enfant ne peut pas supporter le poids cette malédiction et s'enfuit. Sakina élève alors seule son fils, le couvant de toutes ses attentions. Un jour, Mozamil a 19 ans....
Trailer
Photos
>>Download the images