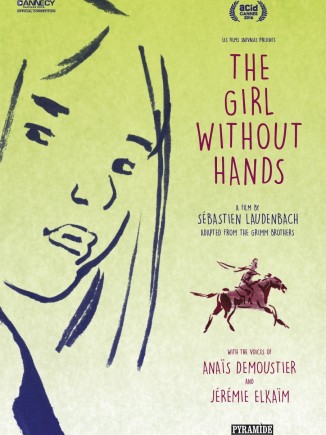 2016
France
76min - DCP - 1.85 - Color
Original language: French
DOWNLOADS

DOWNLOAD THE FLYER
Cast
With the voices of:
Anais Demoustier
Jérémie Elkaim
Credits
Director: Sébastien Laudenbach
Adapted from the Grimm's brothers tale
Script: Sébastien Laudenbach
Editing: Santi Minasi, Sébastien Laudenbach
Compositing directors: Sébastien Laudenbach, Clorinde Baldassari
Compositing: Julie Lespingal, Héloïse Ferlay
Sound editing: Julien Ngo-Trong
Sound effects: Romain Anklewicz
Sound music and postsynchronizaton engineer: Nicolas Sacco
Mix: Xavier Marsais
Producer: Jean-Christophe Soulageon (LES FILMS SAUVAGE)
Coproducers: David Thion, Philippe Martin (LES FILMS PELLEAS)
Festivals & Awards
AWARDS
Winner Jury Distinction
Annecy Intl Film Festival
Best Film Award
Anim'Est International Animation Film Festival Bucharest
Grand Prize
Bucheon Intl Animation Film festival in South Korea 2016
People's choice Award
Brasilia International Film Festival 2016
Grand Prize
TAFF 2017 - Tokyo Anime Award Festival
Special Mention
ANIMAFEST Zagreb 2017
FESTIVALS 2016
ACID Cannes
Helsinki Film Festival
Filmfest Hamburg
Fantoche Animation Film festival Switzerland
Festival International du Film Francophone de Namur
17ème Festa do Cinema Francês
11th Anim'est International Animation Film Festival Bucharest
Bucheon International Animation Festival
KLIK! Amsterdam Animation Festival,
Filemon - Festival de film d'enfant de Bruxelles
Thessaloniki International Film Festival
Sao Paulo International Film Festival
Brasilia International Film Festival
Gijon International Film Festival
Brazil ANIMAGE Festival Brazil
Anilogue Film Festival, Hungary
Riff Awards, Italy
Seoul Best of the Best Animation Festival, South Korea
International Young Audience Film Festival Ale Kino! Poland
Costa Rica International Film Festival in San Jose
FESTIVALS 2017
Tournai Ramdam Festival, Belgium
Rendez-vous Franco-thaï de l'animation, Thailand
VOID Copenhagen International Animation Film Festival, the Netherlands
Festival Anima, Belgium
21rst Animac International Animation Festival of Catalonia in Lleida, Spain
Febiofest Bratislava, Slovakia
L'aquila film festival, Italy
Tokyo Anime Award Festival, Japan
Dingle International Film Festival, UK
Istanbul Film Festival, Turkey
Panorama du cinéma Français de Pekin, China
BAFICI Buenos Aires Independent film Festival, Argentina
Cinemagik film festival Dublin, UK
Anifilm, Czech Rep
Future Film Festival Bologna, Italy
6e French Animation Film Festival in Singapore
Panorama du cinéma Français en Chine
Special screening at Antwerp Museum of Contemporary Art, Belgium
10th Festival of European Animated Feature Films and TV-Films in Hungary
FESTA DE LES CULTURES I LA DIVERSITAT Barcelona

In hard times, a miller sells his daughter to the Devil. Protected by her purity, she escapes but is deprived of her hands. Walking away from her family, she encounters the goddess of water, a gentle gardener and a prince in his castle. A long journey towards the light…
French Synopsis :
En des temps difficiles, un meunier vend sa fille au Diable. Protégée par sa pureté, elle lui échappe mais est privée de ses mains. Cheminant loin de sa famille, elle rencontre la déesse de l'eau, un doux jardinier et le prince en son château. Un long périple vers la lumière.
Trailer
Photos
>>Download the images