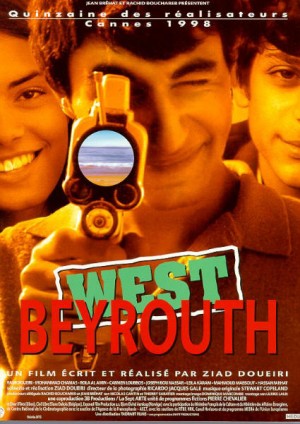 1998
France - Belgium - Liban - Norway
105min - 35mm - 1.85 - Color - Drama comedy
Original language: Libanese & French
Cast
Rami Doueiri
Mohamad Chamas
Rola Al Amin
Credits
Director: Ziad Doueiri
Screenplay : Ziad Doueiri
Image: Richard Gale
Editing: Dominique Marcombe
Producers: Jean Brehat, Rachid Bouchareb (3B Productions), Bjorn Eivind Aarskog
Festivals & Awards
1998:
Cannes - Directors' Fortnight
Toronto - Official Selection - Critics' Prize (FIPRESCI)
Taipei Film Festival - Grand Prize
West Beirut
WEST BEYROUTH
a film by :Ziad Doueiri
Beirut, April 13, 1975 : first official day of the Lebanese Civil War. The passengers of a Palestinian bus are massacred by the militia in front of Tarek and Omar, two teenagers from West Beirut. However, Tarek and Omar, determined to make the most of their youth to have fun, pretend to ignore the tragedy unfolding before their eyes. Especially as their school has shut down. Together with May, a young Christian girl from their neighbourhood who wins the two friends over with her charms, they hang out in the city and its street, looking for adventure. They become friendly with the neighbours, shopkeepers and militia and use a Super 8 camera to film what they see, turning the battlefield into a sort of playground.
French Synopsis :
En 1975, alors que les chretiens maitrisent Beyrouth Ouest, la partie musulmane de la ville, deux adolescents du quartier et une jeune chretienne filment la ville en super 8. D'abord insouciants, ils sont peu a peu happes par l'engrenage de la violence.
Photos
>>Download the images