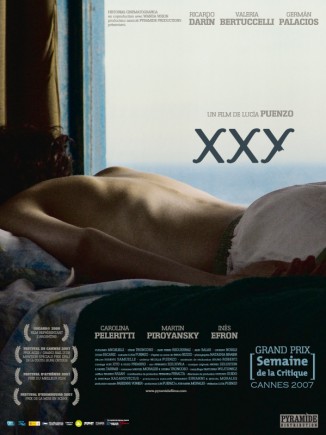 2007
Argentina - Spain - France
91min - 35 mm - 1.85 - Color - Drama
Original language : Spanish
Cast
Ricardo Darin
Valeria Bertucceli,
German Palacios
Carolina Peleritti
Martin Piroyansky
Ines Efron
Credits
Director: Lucia Puenzo
Producer : Luis Puenzo & Jose Maria Morales
Production Company : HISTORIAS CINEMATOGRAFICAS & WANDA VISION
Co-producer : Fabienne Vonier
Co-production Company : PYRAMIDE PRODUCTIONS
Screenplay : Lucia Puenzo
Director of photography : Natasha Braier
Sound : Farnando Soldevila
Music : Andres Goldstein & Daniel Tarrab
Editing : Alex Zito & Hugo Primero
Set : Roberto Samuelle
Festivals & Awards
2007 :
Cannes - Critics'Week - Grand Prize
Munich IFF
Edinburgh International Film Festival
Skillset New Directors Award for
Lucia Puenzo
Jerusalem IFF
Bangkok IFF
Athens IFF(Opening nights)
In Competition
Golden Athena for Best film
Festival Nouveau Cinema Montreal
Association of Quebec's Cinema Critics prize
Castellinaria International Youth FF
16-20 years Competition
"Three Castles" Award Winner
Valladolid IFF
winner of Youth Council Award
Toronto IFF
Reykjavík IFF
Hong Kong Gay & Lesbian IFF
Auteur IFF
(Belgrade)
Bratislava IFF
Black Nights IFF
(Tallinn)
Tokyo Latin Film Fest
Montreal - Quebec Film Critics Award
Ljubljana IFF
Tapei Golden Horse IFF
Cairo IFF
Kerala IFF
Mexican National Film Award
Ariel for Best Hispanic film
Quebec City film festival
"Festival de Cinema des 3 Amériques"
Jury prize
Frameline GLBT
Audience Award
2008 :
Goya - Best Spanish language foreign film
Goteborg IFF
Helsinki Women Film Fest
Melbourne Queer Fim Fest
Bermuda IFF
Istanbul IFF
Hola Lisboa
Zlin IFF
Stockholm Queer Fest
EspooCine
Queer Lisboa
Out in africa G&L Fest
Sofia IFF
Febiofest IFF
Vilnius IFF
Seoul Women IFF
Flying Broom Women IFF
Copenhagen G&L IFF
Best Film
Zagreb G&L FF
Malmo IFF
Latinamerika in Focus
Finland
Vinokino G&L FF
Kolkata IFF
2009 :
Windhoek IFF
Jönköping IFF
Queer Film Festival
MEZIPATRA

Alex is a 15-year-old teenager with a heavy secret. Soon after her birth her parents decide to leave Buenos Aires to make a home out of an isolated wooden house tucked away in the dunes of the Uruguayan shoreline. Then a couple of friends from Buenos Aires comes visiting us with their 16-year-old son Alvaro. Alvaro's father is a plastic surgeon who accepted the invitation because of his medical concern for Alex. The inevitable attraction between both teenagers forces them all to face their worst fears.Rumours are spreading around the town. Alex gets stared at as if she were a freak. People's fascination with her can become dangerous.
French Synopsis :
Alex, une adolescente de 15 ans, porte un lourd secret. Peu après sa naissance, ses parents ont décidé de quitter Buenos Aires pour aller s´installer sur la cote uruguayenne, dans une maison en bois perdue dans les dunes. C'est là qu'un couple d´amis de Buenos Aires vient leur rendre visite, accompagnés d´Álvaro, leur fils de 16 ans. Le père, un spécialiste en chirurgie esthétique, a accepté l'invitation en raison de l´intéret médical qu´il porte à Alex. Une attirance inéluctable nait entre les deux enfants qui va tous les obliger à affronter leurs peurs … Des rumeurs se répandent dans la ville. On commence à dévisager Alex comme si c´était un monstre. La fascination qu'elle exerce risque désormais de devenir dangereuse.
Trailer
Photos
>>Download the images