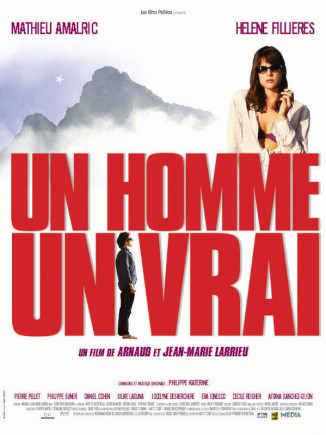 2003
France
120min - 35 mm - 1.85 - Color - Romantic comedy
Original language : French, English
Cast
Hélène Fillières
Mathieu Amalric
Pierre Pellet
Philippe Suner
Daniel Cohen
Silvie Laguna
Credits
Director: Arnaud et Jean-Marie LARRIEU
Producer : Philippe Martin
Production Company : Les Films Pelleas
Co-production Company : France 3 Cinema / Haut et Court / Gimages Developpement
Screenplay : Arnaud et Jean-Marie LARRIEU
Director of photography : Christophe BEAUCARNE Sound : Olivier MAUVEZIN
Music : Philippe KATERINE
Editing : Annette DUTERTRE
Costumes : Laurence STRUZ
Set : Brigitte BRASSART
Festivals & Awards
2003:
Yokohama Film Fest
Vienna French Film Fest
Vancouver Film Fest
Denver Film Fest
Tubingen Film Fest
London Film Fest
Turino Film Fest
Dublin French Film Fest
European Beyrouth Film Fest
2004 :
Cinefranco in Tronto
Nat Film Fest
Wellington Film Fest
Boston French Film Fest
A REAL MAN
UN HOMME UN VRAI
a film by :Arnaud et Jean-Marie Larrieu
During a party somewhere in Paris, an apprentice filmmaker, Boris, and a young executive, Marilyne, play at being a loving couple when they've only just met. They end up really falling in love. Five years later, Marilyne, accompanied by Boris and their two kids, goes to Ibiza on a business trip. Just as Boris, tired of being a househusband, is about to leave her, Marilyne takes off on a lover's spree. Five years later,; Marilyne reappears in the depths of the Pyrenees as the leader of a group of American women on a "personal growth" tour. She learns that the man who is to introduce them to the mysteries of coqs de Bruyère mating rituals is none other than Boris. In the same way that, five years earlier, they played at being intimate when they'd only just met, Marilyne and Boris will now play at being strangers when they know each other, For the very best.
French Synopsis :
Alors qu'ils ne se connaissaient pas, Boris, timide apprenti cinéaste, et Marilyne, dynamique cadre supérieur, tombent fous amoureux lors d'une soirée parisienne. Cinq ans plus tard, Marilyne, accompagnée de Boris et de leurs enfants, se rend aux Baléares pour un séjour professionnel. Au moment même où Boris, fatigué de son rôle d'homme au foyer, s'apprête à la quitter, Marilyne fait une fugue amoureuse et disparaît. Cinq ans plus tard, Marilyne réapparaît au fin fond des Pyrénées. Venue avec un groupe d'américaines découvrir les mystères de l'accouplement des coqs de bruyère, elle réalise que le guide de haute montagne qui les accompagne n'est autre que Boris. Comme ils ont joué, dix ans auparavant, à ceux qui se connaissaient alors qu'ils ne se connaissaient pas, Marilyne et Boris vont maintenant jouer à ceux qui ne se connaissent pas alors qu'ils se connaissent... Gardant le meilleur pour la fin.
Photos
>>Download the images