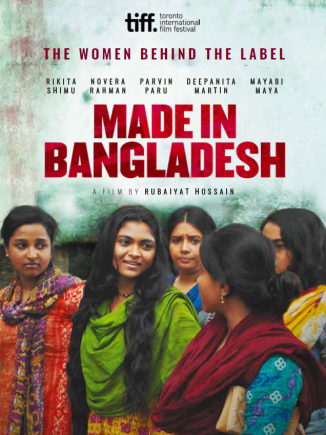 2019
France - Bangladesh - Denmark - Portugal
95min - DCP - 1.85 - Color
Original language: Bengali
DOWNLOADS

Download the presskit
Cast
Rikita Shimu
Novera Rahman
Parvin Paru
Deepanita Martin
Credits
Director: Rubaiyat Hossain
Script: Rubaiyat Hossain, Philippe Barrière
Image: Sabine Lancelin
Editing: Raphaëlle Martin-Hölger, Sujan Mahmud
Music: Tin Soheili
Producers: François d'Artemare (LES FILMS DE L'APRES-MIDI), Ashique Mostafa (KHONA TALKIES)
Co-producers: Peter Hyldhal (BEO FILMS), Pedro Borges (MIDAS FILMES), Aadnan Imtiaz Ahmed (CINEMA COCOON), Rubaiyat Hossain
Festivals & Awards
AWARDS
"UNDER CONSTRUCTION", ARTE AWARD LOCARNO - Open Doors 2015
THE INTERFEDI AWARD - Award for the respect of minorities and secularism - Torino IFF
FESTIVALS 2020
Tournai Ramdam FF
Amsterdam Human Rights FF
Stockholm Feminist Film Festival
FIFDH Geneva FF
Red Sea FF
Osaka Asian FF
Valencia Human Rights FF
London Human Rights FF
CinéFrance Maroc
Kerala Women's IFF
Filmfestival Women's Worlds Tuebingen
FESTIVALS 2019
TIFF Toronto Intl Film Festival - Contemporary World Cinema
London BFI
Stockholm International Film Festival - Competition
Films from the South Norway
Asia Pacific Screen Award
Torino Film Festival
IFEMA International Female Film Festival

Shimu, 23, works in a clothing factory in Dhaka, Bangladesh. Faced with difficult conditions at work, she decides to start a union with her co-workers.
Despite threats from the management and disapproval of her husband, Shimu is determined to go on. Together the women must fight and find a way.
French Synopsis :
Shimu, 23 ans, travaille dans une usine textile à Dacca, au Bangladesh. Face à des conditions de travail de plus en plus dures, elle décide avec ses collègues de monter un syndicat, malgré les menaces de la direction et le désaccord de son mari. Ensemble, elles iront jusqu'au bout.
Trailer
Photos
>>Download the images