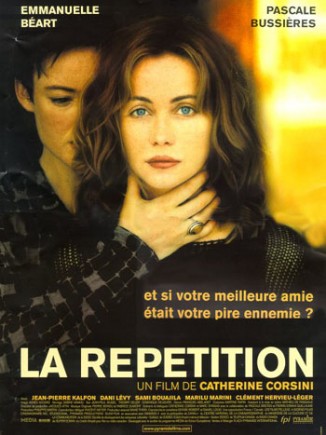 2001
France
90min - 35 mm - Color - 1.85 - Drama
Original language : French
Cast
Emmanuelle Béart
Pascale Bussières
Dani Lévy
Jean-Pierre Kalfon
Sami Bouajila
Marilu Marini
Clément Hervieu-Léger
Marc Ponette
Credits
Director: Catherine Corsini
Producer : Philippe Martin
Production Company : Les Films Pelleas
Co-producer : A GIORNO FILMS
Co-production Company : CINEMAGINAIRE
Screenplay : Catherine Corsini and Marc Syrigas
Director of photography : Jacques Attia
Sound : Jean-Paul Mugel
Costumes : Martine Rapin
Set : François Abelanet
Festivals & Awards
2001:
Cannes - Official Selection - In Competition
Scotland French Film Festival
Irish French Film Festival
Haifa Film Festival
Israel
Gay and Lesbian Film Fest in Hamburg
Gay and Lesbian Film Fest in Berlin
Tubingen Film Festival
Black Night Film Festival - Estonia
2002:
Goteborg Film Festival
Mardi Gras Gay and Lesbian Fest - Sydney
Mardi Gras Gay and Lesbian Fest - Melbourne
London Gay and Lesbian Film Fest
Nat Film Festival - Dk
San Francisco Gay&Lesbian Fest
Philadelphia Gay&Lesbian fest
Outfest in Los Angeles
Braunschweig Film Fest
Ljubljana Gay & Lesbian Fest
Seattle Gay & Lesbian Film Fest
Out On Film Fest in Atlanta
Replay
REPETITION (LA)
a film by :Catherine Corsini
Louise and Nathalie are 30 year old or so. They meet after a period of separation of more than 10 years. Louise is a dental technician now. Nathalie has become a stage actress, which they wanted both to be one day. Because she admires Nathalie, Louise wants to make her happy in spite of her, and intrigues for her to play "" Lulu "" with Walter Amar, a famous director. She lives for her friend's promise of success : she lives with her, comes to her work, becomes essential to her. Nathalie never has any respite from Louise and their relationship will turn into a spiral of passion.
French Synopsis :
Louise et Nathalie ont une trentaine d'années. Elles se retrouvent après une séparation de plus de dix ans. Louise est prothésiste dentaire. Nathalie est devenue comédienne de théâtre, ce qu'elles rêvaient d'être un jour toutes les deux. Parce qu'elle admire Nathalie, Louise veut faire son bonheur malgré elle, et intrigue pour qu'elle joue "" Lulu "" avec un metteur en scène prestigieux. Elle vit par procuration la promesse de réussite de son amie : elle habite chez elle, assiste à son travail, lui devient indispensable. Louise ne laisse pas de répit à Nathalie, et leur relation va se transformer en un engrenage passionnel.
Photos
>>Download the images