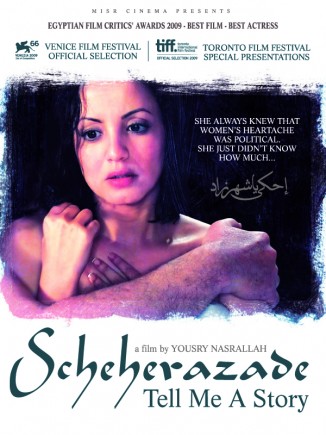 2009
Egypt
135min - 35mm - 1.85 - Color - Drama
Original language: Arabic
Cast
Mona Zakki
Mahmoud Hemeida
Hassan El Raddad
Credits
Director: Yousru Nasrallah
Screenplay: Waheed Hamed
Image: Samir Bahsan
Editing: Mona Rabi
Music: Tamer Karawan
Producer: Kamel Abou Ali
Production company: MISR Cinéma
Festivals & Awards
2009 :
Venice - Official Selection - Out of Competition
Toronto - Special Presentations
IFF Middle
East IFF
Sao Paulo IFF
MedFilm Festival
Festival Del Cinema African Di Verona -Best Film - African Students prize
Kerala IFF
Festival des 3 continents Nantes
2010:
Audience Award - Tromso IFF
Glascow IFF
Cinema Novo IFF
Cinemafrica Film Fest
Washington DC. IFF
Movies that Matter Festival Netherlands
Istanbul IFF
Innsbruck IFF
Arab Film Fest in Australia Wellington & Auckland IFF
Salé IFF
Rio IFF Festival international du cinéma francophone en Acadie
Women's Worlds in Tuebingen
San Francisco Arab IFF
2011:
Independant IFF Bruxelles - Best screenplay
French Speaking Film fest in Bucarest
Afrika Film Fest in Leuven
Student's Prize Festival International du Cinéma et de l'Audiovisuel du Burundi
Festival du Film Franco-Arabe en Jordanie
Festival du Film Franco-Arabe en Syrie
Rencontres du cinéma d'Afrique et des îles Mayotte
Arab Film Festival
2012:
ALFILM in Berlin
Heidelberg Mediterranean Film Festival
Helsinki African FF
SCHEHERAZADE, TELL ME A STORY
EHKY YA SCHAHRAZAD
a film by :Yousry Nasrallah
Cairo, today. Hebba, a television-speaker, presents a successful political talk show on a privately owned network. Karim, her husband, is deputy editor in chief of a government-owned newspaper. His ambition is to become editor in chief. He is led to believe by the Party big shots, that his wife's constant meddling with opposition politics could put his promotion in danger. Using his boyish charm and sexual prowess, he convinces Hebba to stay away from politics, and devote her program to social issues for which the government cannot be held responsible. She starts a series of talk shows around issues involving women. She listens to the stories of resilient, strong women, who, like Scheherazade in "A Thousand and One Nights", tell their stories to stay alive. Hebba knows, of course, that women's issues are political. But she could not imagine up to which extent. Gradually, she finds herself walking in a minefield of abuse, sexual, religious, social and political repression that lead to the break-up of her marriage. From storyteller, Hebba herself becomes a story.
French Synopsis :
Le Caire, de nos jours. Hebba et Karim forment un couple de journalistes à succès, jeunes, riches et beaux. Hebba anime un talk-show politique, mais sa pugnacité anti-gouvernementale met en danger la promotion qu'attend son mari. Il lui met la pression ; elle promet de mettre un peu d'eau dans son vin. Son émission troque alors la politique pour des faits divers féminins. Le succès est immédiat : Hebba passionne des millions de spectateurs avec des histoires vraies, pleines de surprises, de violences, de rebondissements, les emmenant des bas-fonds du Caire à la jet-set, impliquant des membres du gouvernement, dans un tourbillon de sensualité et d'inventivité romanesque. Mais où s'arrête la politique, où commence la question de la condition féminine ? Hebba se retrouve très vite en terrain miné fait d'abus, de tromperies religieuses, sexuelles et. politiques. De conteuse, Hebba devient elle-même une histoire.
Trailer
Photos
>>Download the images