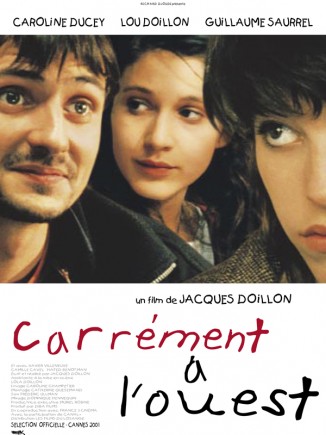 2001
France
97min - 35 mm - 1.66 - Color - Drama
Original language :French
Cast
Caroline Ducey
Lou Doillon
Guillaume Saurrel
Credits
Director: Jacques Doillon
Producer : Richard Djoudi
Screenplay : Jacques Doillon
Director of photography : Caroline Champetier
Sound : Jean-Pierre Duret
Festivals & Awards
2001:
Cannes - Official Selection - Un Certain Regard
Totally Flaky
CARREMENT A L'OUEST
a film by :Jacques Doillon
In Paris, where he wields his money scams, Alex has an unexpected encounter with two girls: Fred, who's nothing to do with his world and who he falls for straight away, and Sylvia - sweet, but lonely, Sylvia. To test Alex, Fred devises a curious game of seduction. Like a character out of a Marivaux play, she toys with setting up delightful obstacles necessary to Love's flourishing: Sylvia must seduce Alex, and Alex, must in turn, truly desire Sylvia. But Fred gets caught in her own trap. She falls head over heels in love with Alex. However, he no longer knows who to choose, all the more so now that Sylvia is falling in love with him, too. During an eventful night of confusion and intrigue, crazy laughter and tears, our threesome come to realize that what really draws them together is an emotional bond: true love.
French Synopsis :
A Paris où l'entraînent ses petites magouilles de fric, Alex va faire une drôle de rencontre avec deux filles : Fred qui n'appartient pas à son milieu et dont il subit tout de suite le charme, et Sylvia, tendre et solitaire. Fred, pour éprouver Alex, organise un bizarre jeu de séduction. Comme un personnage de Marivaux, elle s'amuse à mettre en place les délicieux obstacles nécessaires à la naissance de l'amour : à Sylvia de séduire Alex, à Alex de désirer vraiment Sylvia. Mais le piège se referme sur Fred. Elle se prend d'un amour absolu pour Alex qui lui, ne sait plus à quel amour se vouer, tandis que Sylvia s'éprend de lui. Au cours d'une nuit où se succèdent chassés-croisés, coups de griffes, fous rires et larmes, le trio découvre le véritable lien qui les unit : celui des sentiments.
Trailer
Photos
>>Download the images